How to set the booking window:
1. Go to Channel Manager, then Listing Mapping.
2. Click on Settings.
3. On the Settings window, you can see the Booking Window Option.

4. Click on the "OFF" button to turn it on and you'll be prompted with the following agreements:
By activating the Booking Window, you are understanding and accepting the following:
For the best results, we strongly advise you to set the same booking window on your channels as on Hostaway.
You can block out days outside of the booking window by creating manual bookings. Doing so, your days will always remain unavailable.
You cannot open dates outside the booking window. If you do, the date will become blocked again in a maximum of 24 hours.
If you have any reservations outside of the set booking window on the channel side, these reservations will be imported to Hostaway. These reservations will be visible on your calendar, and those days will be blocked from the new booking.
If you have a wider booking window on the channel side than on Hostaway, those days will remain blocked in Hostaway.
6. Once read and understood, click on Confirm.
7. Now, you can set your Booking Window that starts with 1 month up to 12 months. After setting the number of months, click on Save.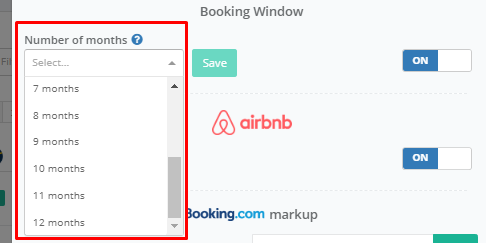 Once you select the number of months for your booking window, it means that for X amount of months, the calendar will be available for reservations and the rest of the dates in the future will be blocked out by the system.
The number of months is calculated from the current day until the X month calendar day.
Example:
If you've set a Booking Window of 3 months: If today is September 1st, the calendar will be open until the December 1st, and from the December 2nd onwards, the rest of the calendar days will be made unavailable.