How to use Hostaway listing multi-unit? Follow
How to use Hostaway multi-unit?
What is a Hostaway multi-unit listing?
Multi-Unit/Multi-Availability has mostly been used by the hotel industry. But now, STR professionals can also enjoy this feature.
Let's say you have a building and in this building, you have 6 Standard Apartments and 2 Standard Apartments with sea views.
Before, you would have to create every apartment as a separate listing and manage 8 listings. But, with the multi-unit feature, you can create 2 listings with multiple units. For example:
Standard Apartment (6)


Unit 101
Unit 102
Unit 103
Unit 104
Unit 105
Unit 106

Standard Apartment with sea view (2)
The good thing is that instead of managing 8 listings, you only have to manage 2 listings.
It is important to know that the multi-unit listings have to be the same listings, at the same address, with the same amenities and price strategy. A Standard Apartment will be treated as a listing in Hostaway whereas Units are only a reflection of the availability (how many Standard Apartment you want to rent).
How to set up multi-unit listings in Hostaway?
Airbnb
Import the listing from Airbnb (You can import a single or multi-unit listing)

Once imported, go to Channel Manager > Click on the 3 dots > Convert to multiunit
Select the number of units and then press convert: This will create the number of units desired and will automatically update Airbnb.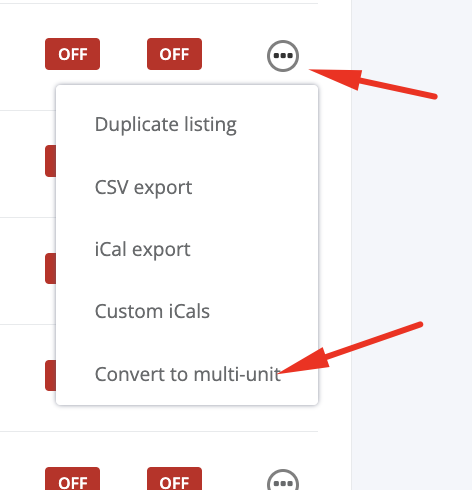 Important: it is possible to change the number of units but this update can take between a few minutes to a couple hours (depending on the information present). Also, please bear in mind that if you reduce the number of units, it can generate situations of overlapping reservations.
Another important fact to have into account is that property type "house" is not allowed for multi-units.
Booking.com
The listing should be already set up as a multi-unit on Booking.com. (One Booking.com room type with multi availability). Once created on Booking.com, you can request the connection to Hostaway as described in this article on how to connect to Booking.com.
Important: It is not possible to export multi-unit listings to Booking.com.
Vrbo API
You can export a multi-unit listing exactly the same way you would export a single listing.
You can find the steps on how to export listings to Vrbo.
Expedia
Like for Booking.com, the listing should be created as a multi-availability listing and then connected to Hostaway.
You can find the steps on how to connect to Expedia.
How do Hostaway features work with multi-unit?
Listings
The multi-Unit listing will have units created with random IDs that are internal to Hostaway.
The IDs are visible in Listings >Edit > Units. The name of the unit can be changed and will be visible on the calendar.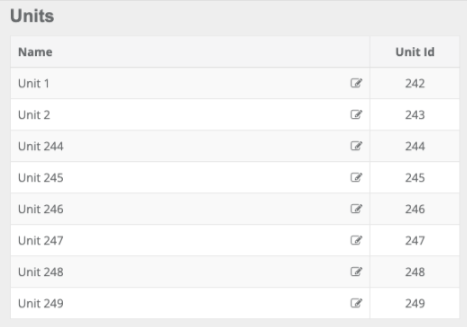 Calendar
The calendar rate is the same for all units

When a reservation comes in, it will be assigned to a unit randomly. You can drag and drop to maximise occupancy or click on the reservation > The unit to then change to another Unit

The Units are not cross-listing. This means that if a Unit is booked, the other units are still available. Cross-Listing is not possible for Multi-Unit listings.
Financial Reporting
Analytics, listing financials, occupancy report: They will all report data on a listing level, not on a Unit level.
Tasks, Automation, Guest Reviews
All these features will work exactly the same.
FAQ
Let's say I have a Standard Apartment with 5 units. How will Hostaway charge me for it?
For multi-unit, the system will automatically add the number of units to your invoice.
You can find more information on how does billing work.

Let's say I wish to reduce/increase the number of units, how can I do that?
In Hostaway, you can go to "Channel Manager" and in front of the multi-unit listing click on the three horizontal dots and select "Add or remove units"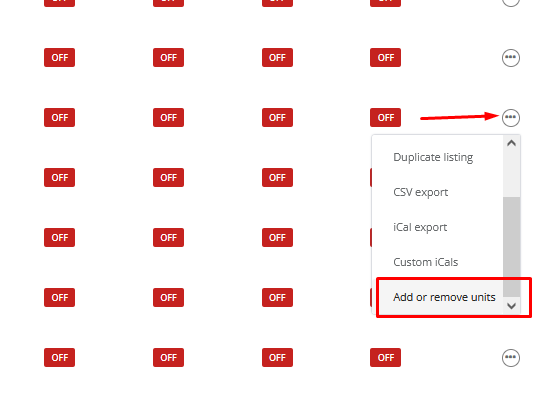 This will allow you to reduce/increase the number of units and will sync automatically this change to Airbnb, Booking.com, VRBO, Expedia and the Hostaway direct channels.
Do bear in mind that removing units will remove a row from the multi-calendar and may cause double bookings for future reservations