How to manage your calendar? Follow
The different calendars and colour explanation
Watch our webinar here (November 2020)
The Hostaway software offers 3 calendar types:
Monthly calendar based on the selected listing
Multi-calendar view with all your listings
Yearly view

Once you've connected your channels and listings, your Hostaway calendar becomes your main calendar to work with.
Monthly calendar
On the monthly calendar view, you can select the specific listing you want to check.
Next to the listing name, you will see the option ¨Show¨: you can decide what do you want to see on the calendar. The options are confirmed reservations, inquiries, tasks (all or only supervised by you), sync status, minimum stay and notes: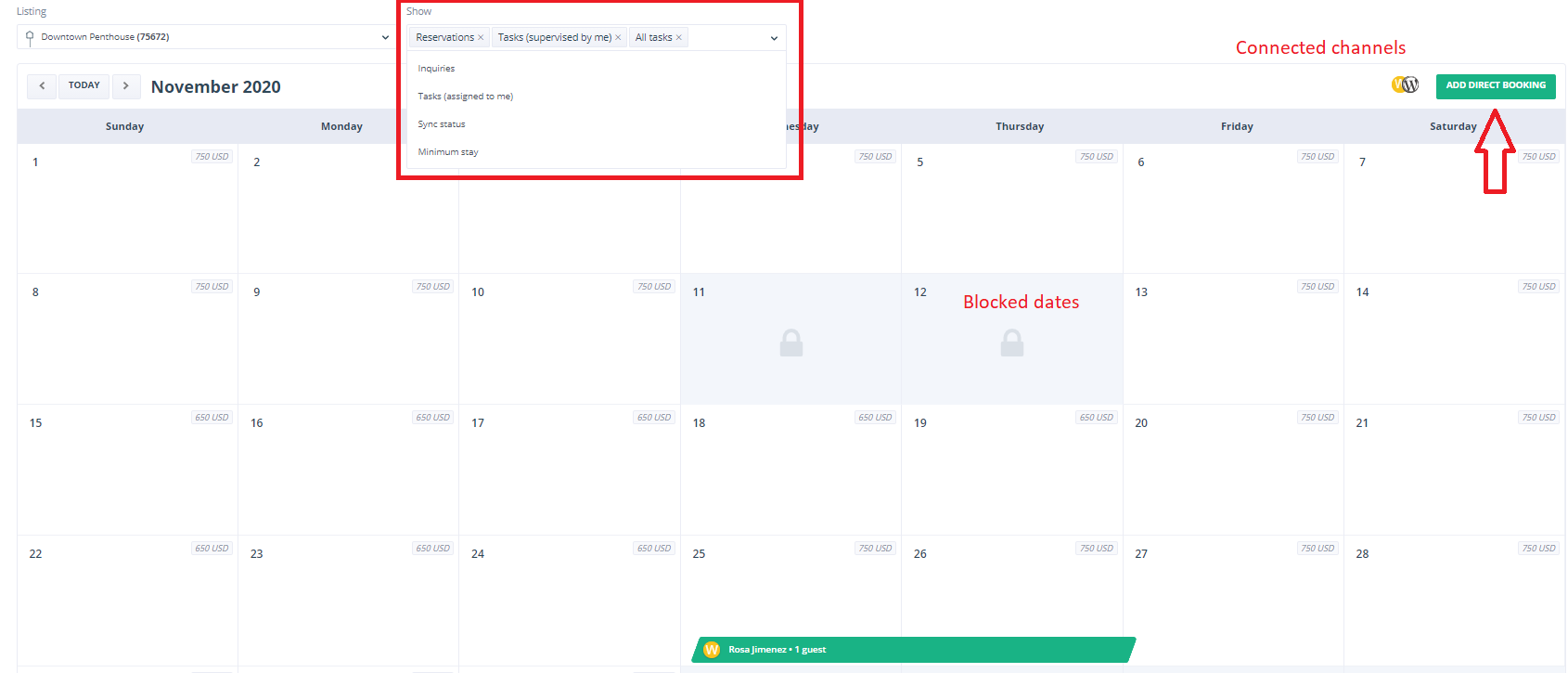 If you select ¨notes¨option, in case there is a private note left for a specific date, it will be visible on the calendar: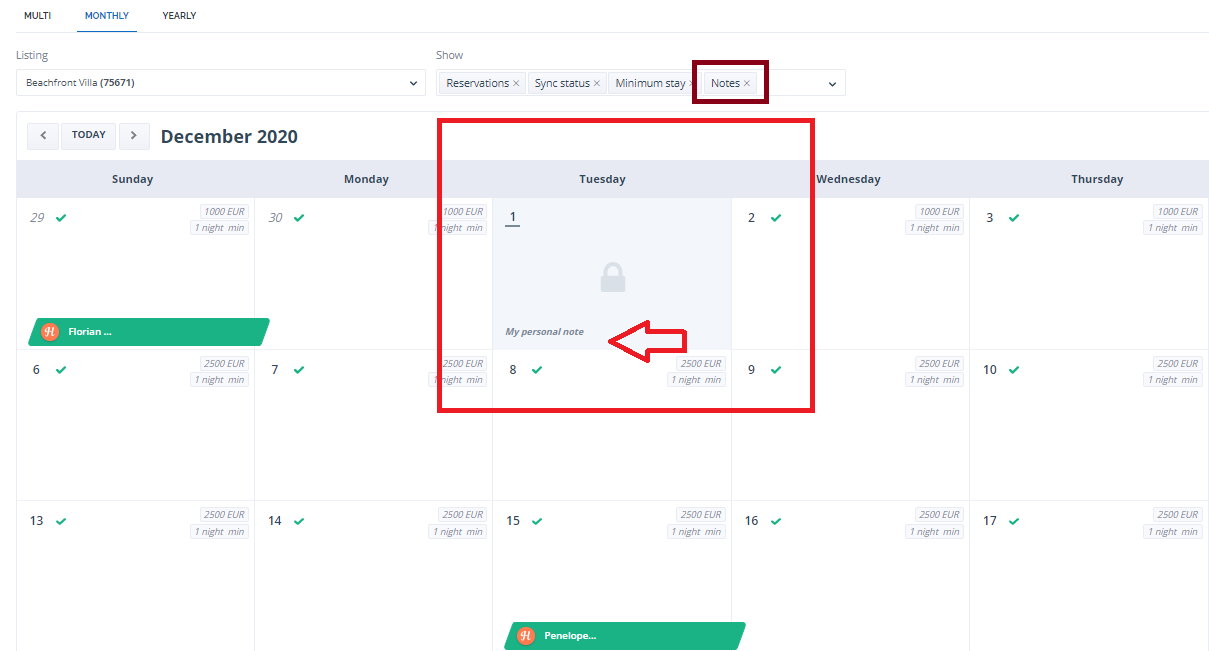 You can see the next 35 days, starting today by changing the view to "Upcoming weeks view"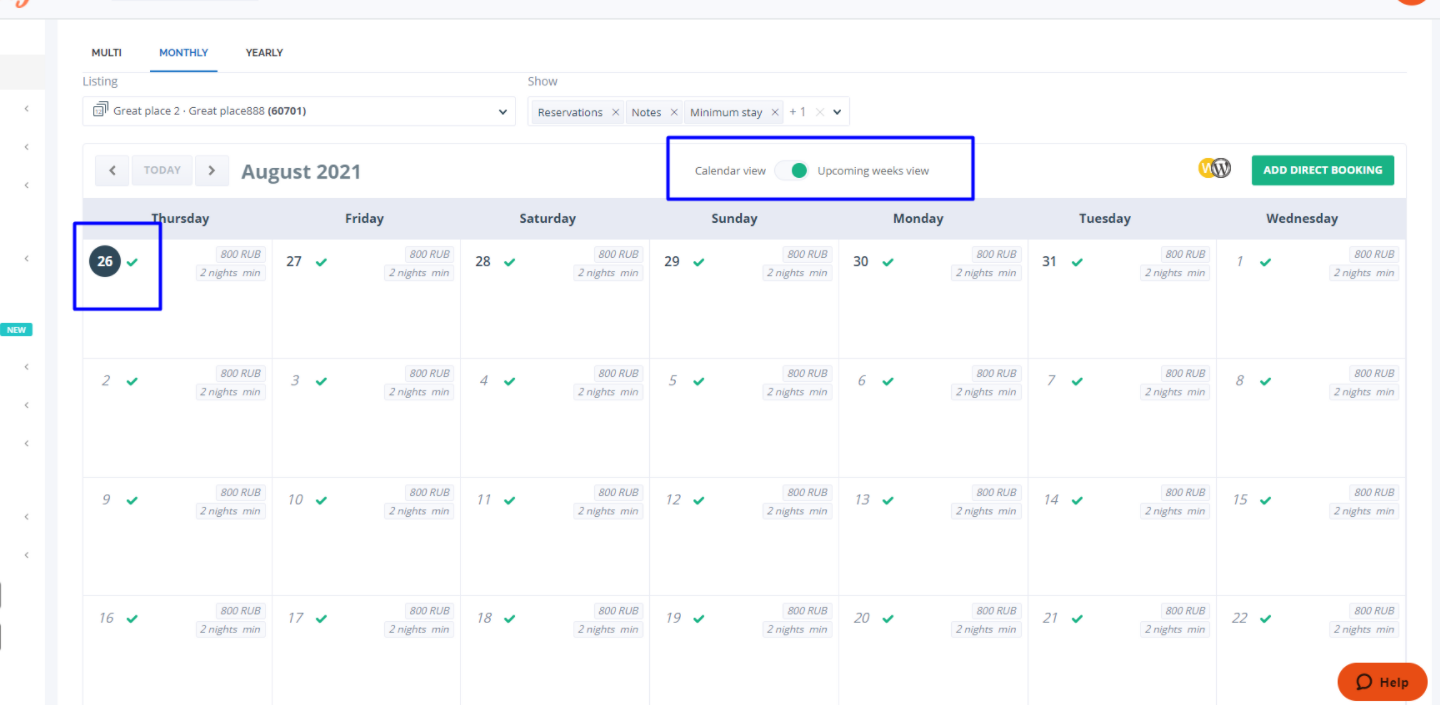 How to block a day?
To block the availability, please click on that day > availability, and mark as Blocked.
You can find more information on how to block a day manually.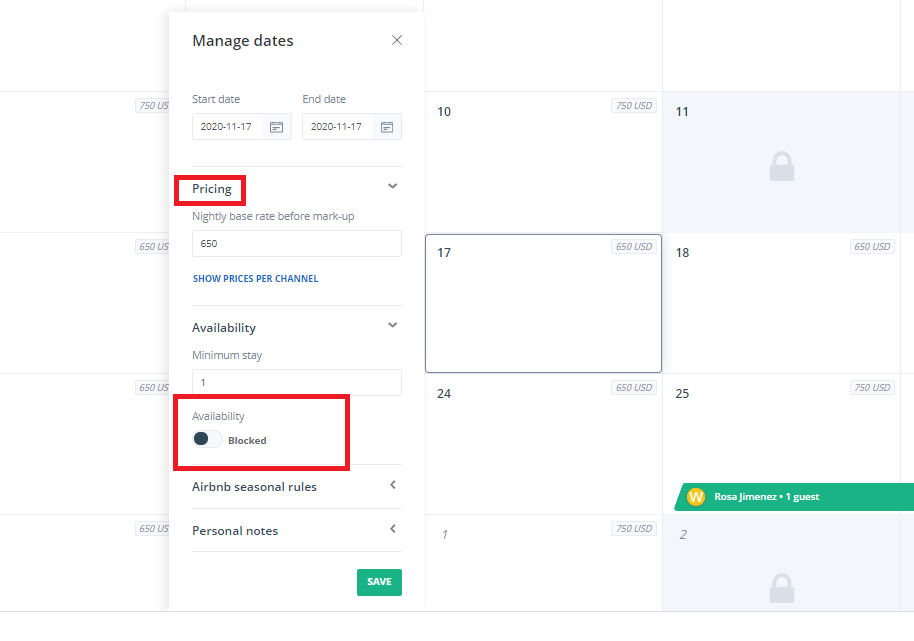 Don´t forget to save.
How to update a daily Rate?
If you want to change the nightly rate, click on that specific date > pricing: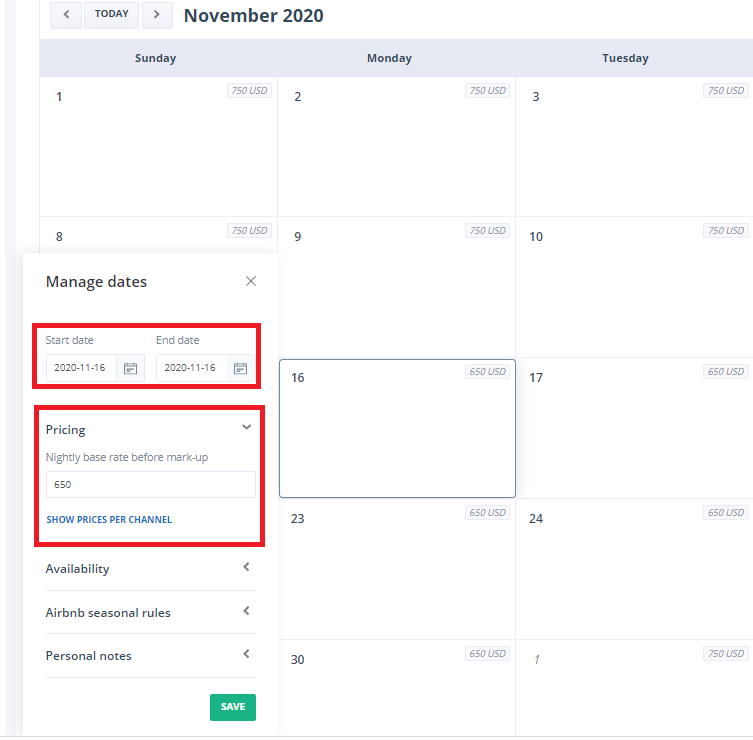 If you want to do a bulk update, you can select the period by changing the start and ending dates.
You can find more information on how to bulk update.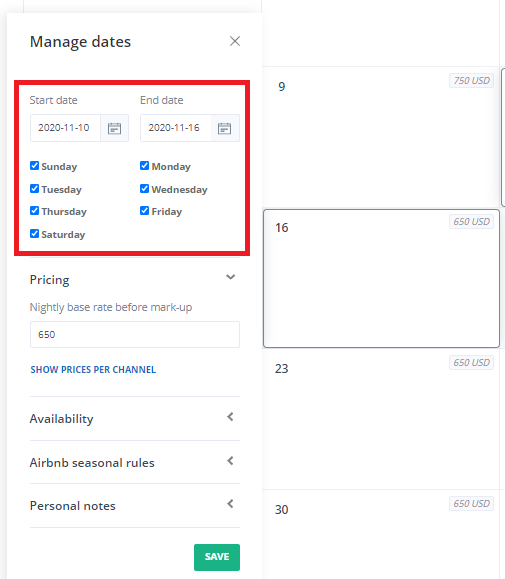 Using this option, you can update only specific weekdays or weekends of that selected period.
The number of nights of a date range selection in the calendar is displayed while selecting the dates.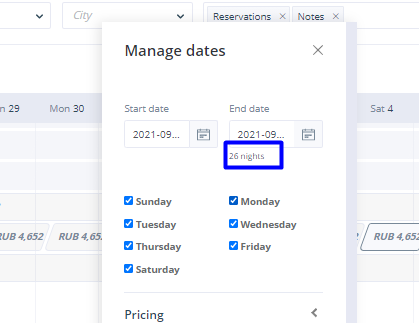 Multi-calendar view
When you manage multiple properties, the software can provide you with an overview of your reservations. In the same way, as in the monthly calendar, you can decide what options do you want to see on the calendar.
Simplified Price Option

If you select this option, the calendar will look like the following:

The simplified price option will remove (only visually) the price on the following date if the previous date´s price is exactly the same.
Yearly view
It gives you a general overview of all your reservations and available dates of all months.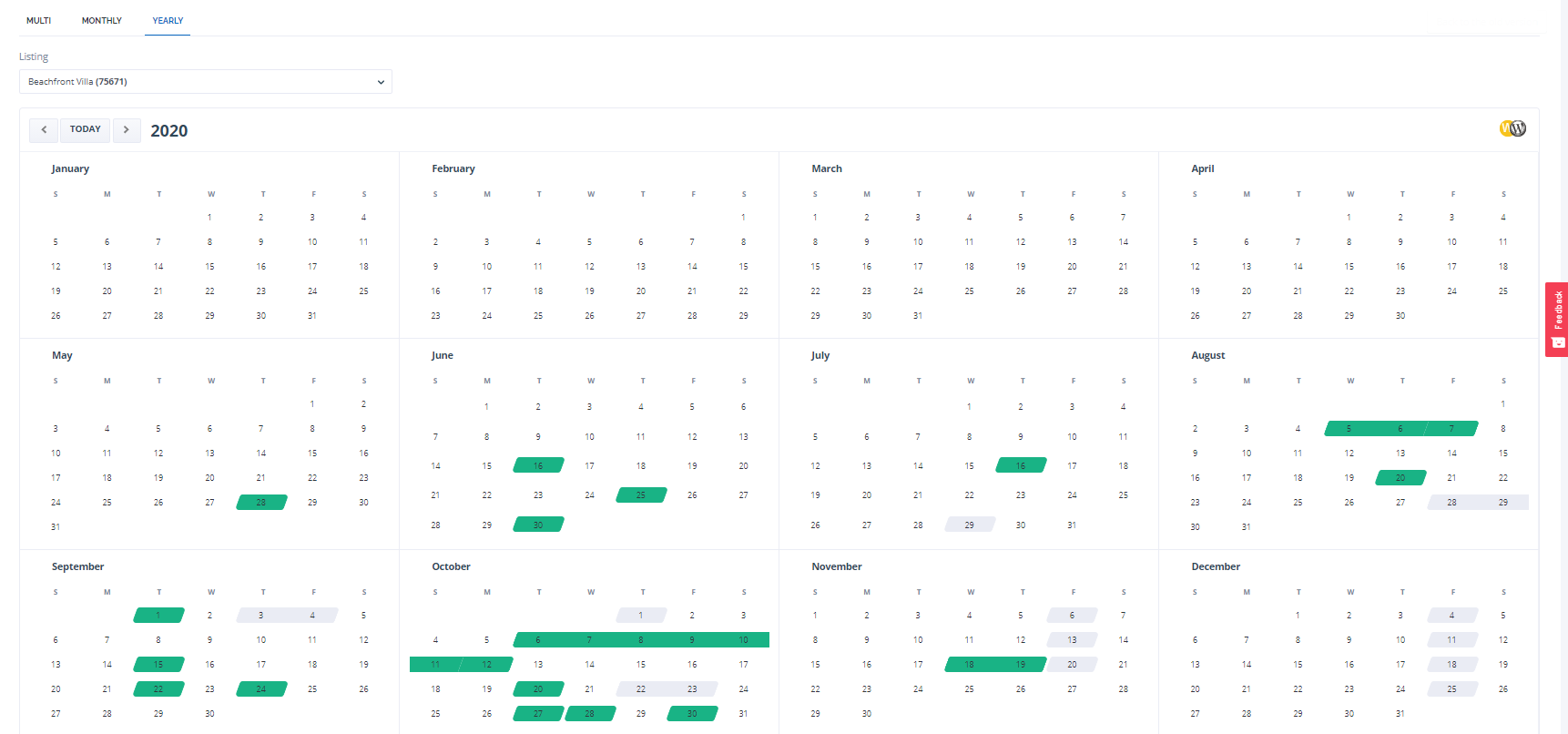 Why do you notice different colours?

Green: Confirmed reservation
Light Green: This is for cross-listing. We block the child or parent listing.
Yellow: Inquiry
Light yellow: Airbnb seasonal rules active
Red: Double booking
Blue: Owner stays
Calendar Notes
Add personal/calendar notes by selecting a specific date range or a date -> On the pop up box "Manage dates" -> Under the section "Calendar Notes".

You can delete/update both past and present calendar notes as preferred. In the multi and monthly calendars, we can view these notes if the Notes filter (in "Show") is selected and even if there is a reservation on that date. You can also add notes for multiple dates, even those with reservations by dragging & dropping a selection or for individual dates by pressing control (Ctrl) + Click on a booked date: