The Hostaway software offers 2 calendar types:
An individual calendar based on the selected listing
Multi-calendar view with all your listings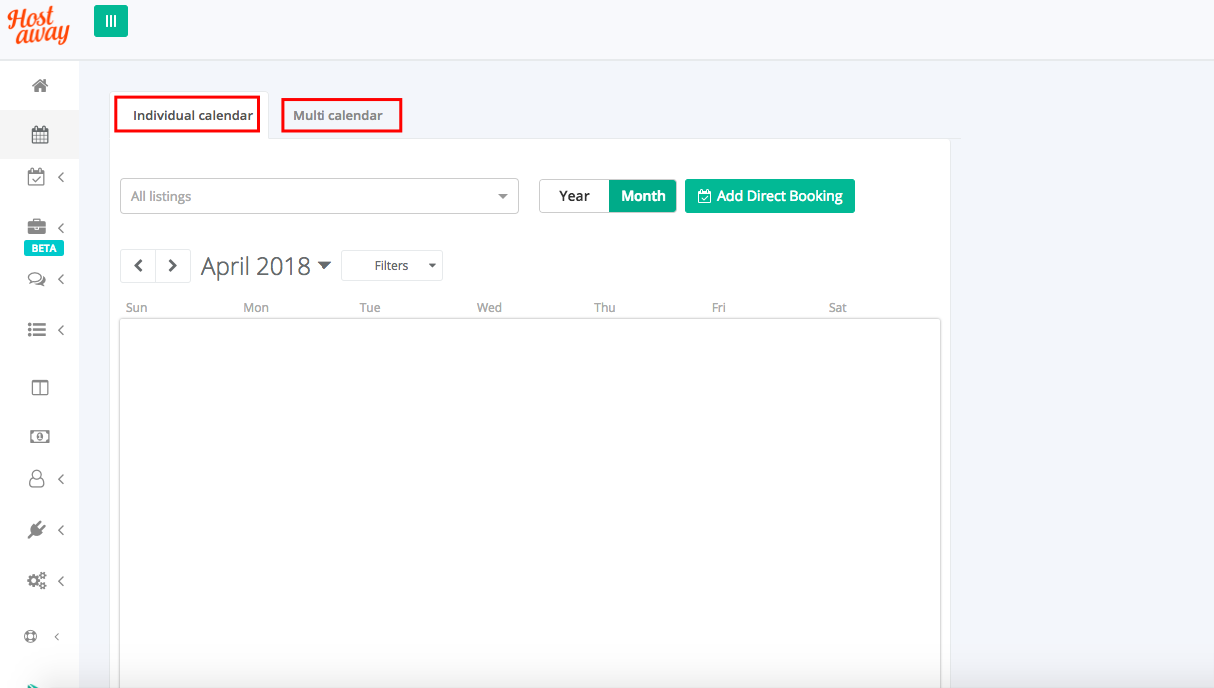 Once you've connected your channels and listings, your Hostaway calendar becomes your main calendar to work with.
Individual calendar
The individual calendar view is a great tool to see if you've received new reservations, which days are blocked, what are your base rates per day and more!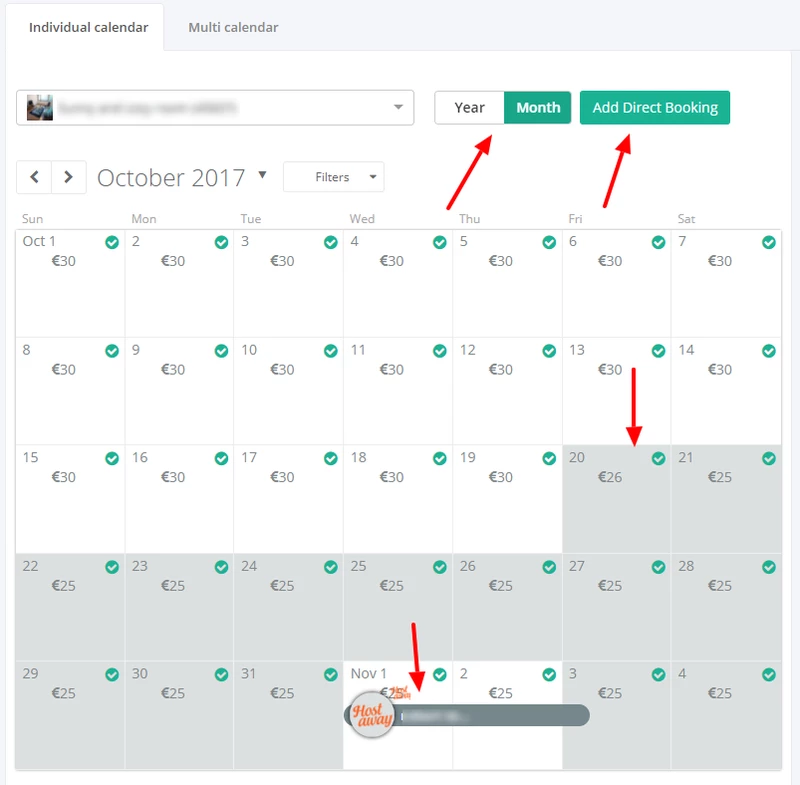 Available options:
Month & Year view - This offers you an easy access to monthly or yearly overview
Add Direct Bookings - You can select multiple days in the calendar and by clicking on the "Add direct booking" button, you can add a reservation to this listing for the selected days. After completion, it will block these dates for other channels.
Grey days - These days are blocked on all channels. It is commonly used when a listing is closed for maintenance or is unavailable as the owners stay at the property. You can manually open and close days in Hostaway.
The reservation overview B - In the example, you see a direct booking. You can click on it to see more information.
Managing the rates, availability and minimum stay
With Hostaway, you are able to update rates, availability and the minimum stay for your properties.
This works for most of the channels but it depends on the channels you have connected with and the way how they are connected.
For example, it works well with Airbnb, Booking.com, Expedia, Innclusive and 9flats.
For other channels such as HomeAway and Tripadvisor, it is only possible if you are using our special connection and only if you have more than 5 listings.
NOTE: The iCal specific connections are not able to update rates and minimum stay. However, you can still change availability for the property.
When you click on a day or select multiple days, you will see: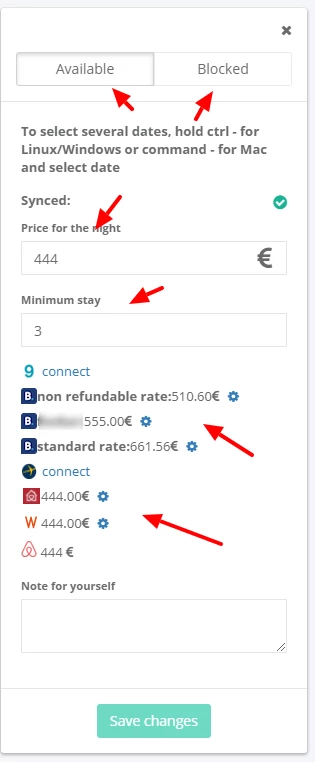 Available options:
Put this date as available or blocked
Enter a rate in Hostaway and will be updated later on in Airbnb
Set a minimum stay for the selected day or period
Shows you the markup rates per channel
Enter a personal note
Notes:
Important! When you change a range of days, the settings you set will be pushed to the other channels. So when you mix blocked and open days, it will open all days or close all.
The updates may take between 2 and 15 minutes to reflect on your channels.
You often need to refresh the channel dashboards to see the changes.
CTR+F5 on windows, MacKey+R on Mac
When you're just starting to use the software, it is strongly advised to verify the updates after processing.
When you save the changes you might see:
Green clock: Changes have been synchronized.
Orange clock: Synchronization is in process.
Individual calendar filter views
In the individual calendar overview, you can select the information you want to see.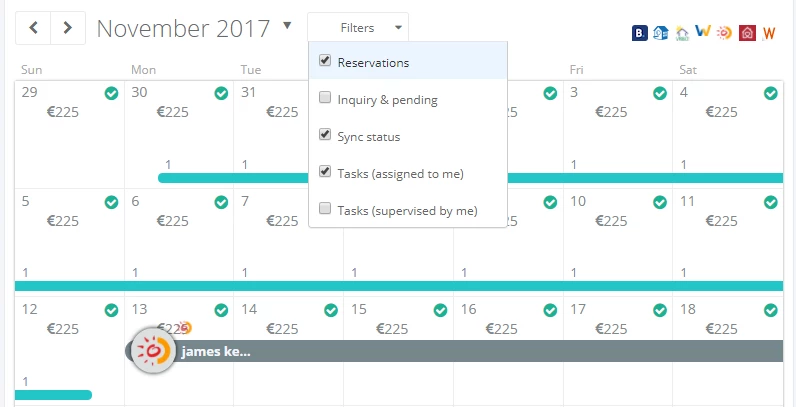 Available options:
Reservations: Confirmed reservations
Inquiry & pending: These shows Airbnb requests you can approve in the Reservation detail section
Sync status: Shows the status if the changes have been processed. (For reservation sync timing, look at the Listings menu page)
Tasks: You can see which tasks are assigned to you and those you need to follow as a supervisor. The number of task and timeline will appear. Clicking on it shows a menu where you can click on the individual task to see the details.
Multi-calendar view
When you manage multiple properties, the software can provide you with an overview of your reservations.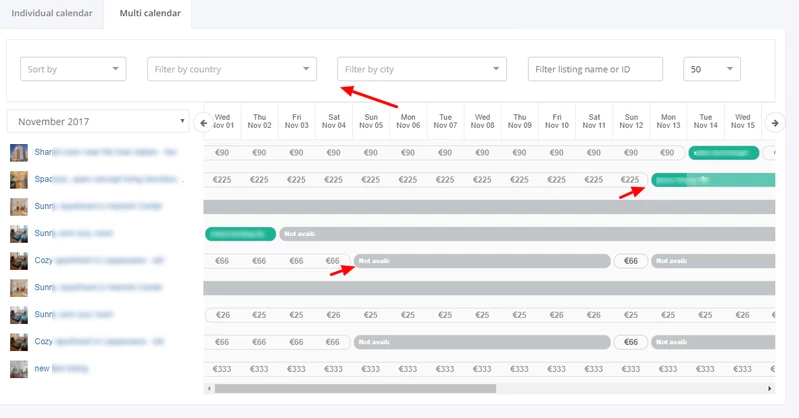 On the top part, you have several options you can use to filter.
There are 2 types of reservations:
Green: Booked by a guest
Grey: Manually blocked
When selecting a day or multiple days, by holding down the CTRL key, you are able to adjust the day's settings as described above.