Listings: Custom Fees & Upsells Follow
Custom Fees & Upsells
Create your custom fees
Custom Fees are a way to upsell via these different ways: Direct reservations, Booking Engine, Guest Portal, and Online Check-in form.
Please note that Custom Fees can also appear in Vrbo if using the Vrbo API connection.
If you would like to apply the fee with other OTA's you will need to have your guests pay for custom fees via the Guest Portal.
Any extra charges or fees required for Airbnb should be requested through Airbnb Host Support.
Set up your Custom Fees to Upsell
Go to your Hostaway Dashboard > Listing > Edit > Price & Fees

Scroll down until you find "Custom Fees" > "+ Add fee"

To be selectable by guests, the fees need to be not mandatory

The fee amount is the one under the Hostaway column. Vrbo custom fees are separate and are not extras

The description field doesn't have any limitation for length or character count. Also, it doesn't have formatting options

Photos and videos are supported as media files. Please contact support to enable the feature for your account to add images

The photo's maximum file size is 2MB. JPG and PNG formats are accepted

The video's maximum file size is 20MB. mp4 is accepted as a format

Only 5 media files can be uploaded for one upsell. If you try to upload more files, an error message will be shown

Photo and video width needs to be greater or equal to the height

The minimum width of the media file needs to be 1000px

Media files will be displayed in the same order as it is uploaded. There is no re-ordering option

If multiple files are added, after pressing save order can change because smaller files will be saved first

If order is important for you, it is better to add one by one and save each time

Upsells with no description or media files are not clickable in the Guest Portal or Booking Engine
This is an example of how upsells will look in the Guest Portal: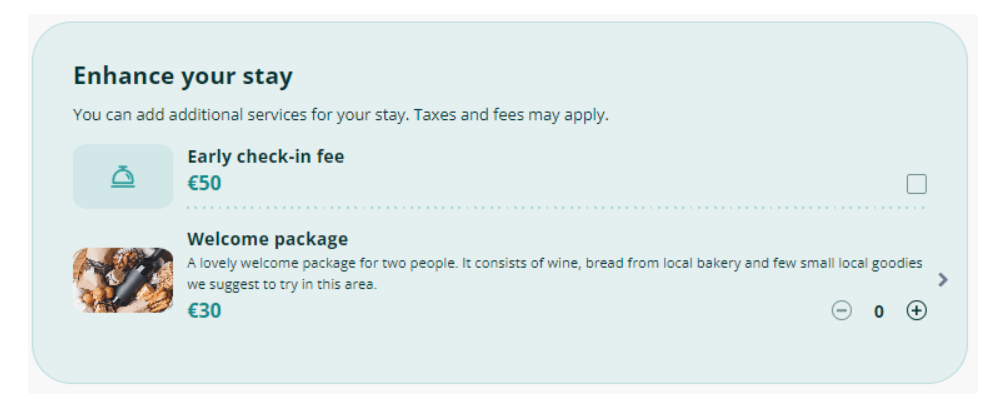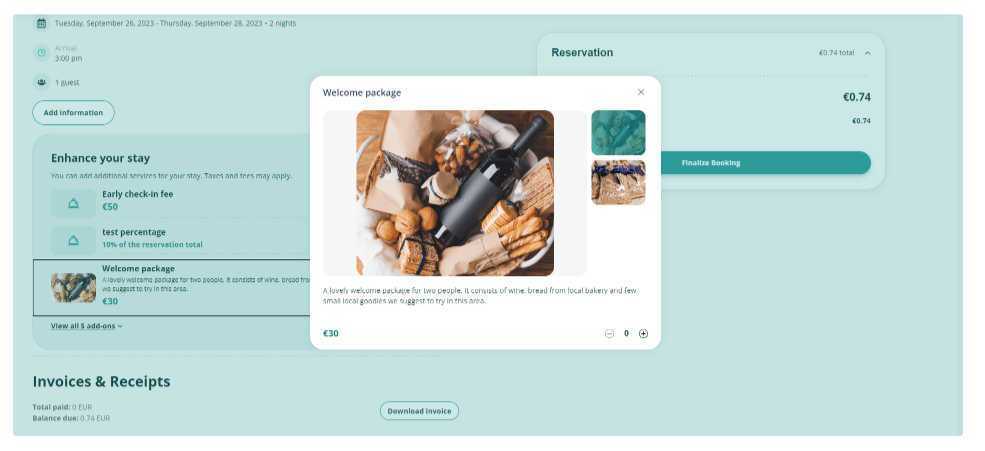 Good to know about Purchasing extras
Guests can see and purchase extras in the Guest Portal

The listing must have a payment processor connected, or extras will not be shown in the portal

Upsells are not shown in the guest portal if an online check-in form needs to be filled out. When it is done, upsells will be visible again

Any tax/fee that applies to extra fees will be added to the reservation amount

Extras are charged immediately by credit card only, in a separate charge. This includes any applying taxes/fees

You will be notified by a separate notification about extras purchased

All purchased extras will be also visible in your Financial Reporting
Enable notifications when adding Extras via the Guest portal
If you have enabled the notifications for new reservations or modified reservations then you should receive a notification when the extra is added.
Please refer to the help center article on how to Set up your notifications and User notifications