How to use the Task feature? Follow
Task feature
To learn more, watch our special webinar here 
In this article, we will explain:
How to create a manual task
How to create an auto task 
How to change the task status
Add a checklist to a task
Add a note
Add cost
Add resolution
Add an attachment
More Info:
How to create a manual task?
 Go to the Tasks menu and click on Add new:

You will see the below view: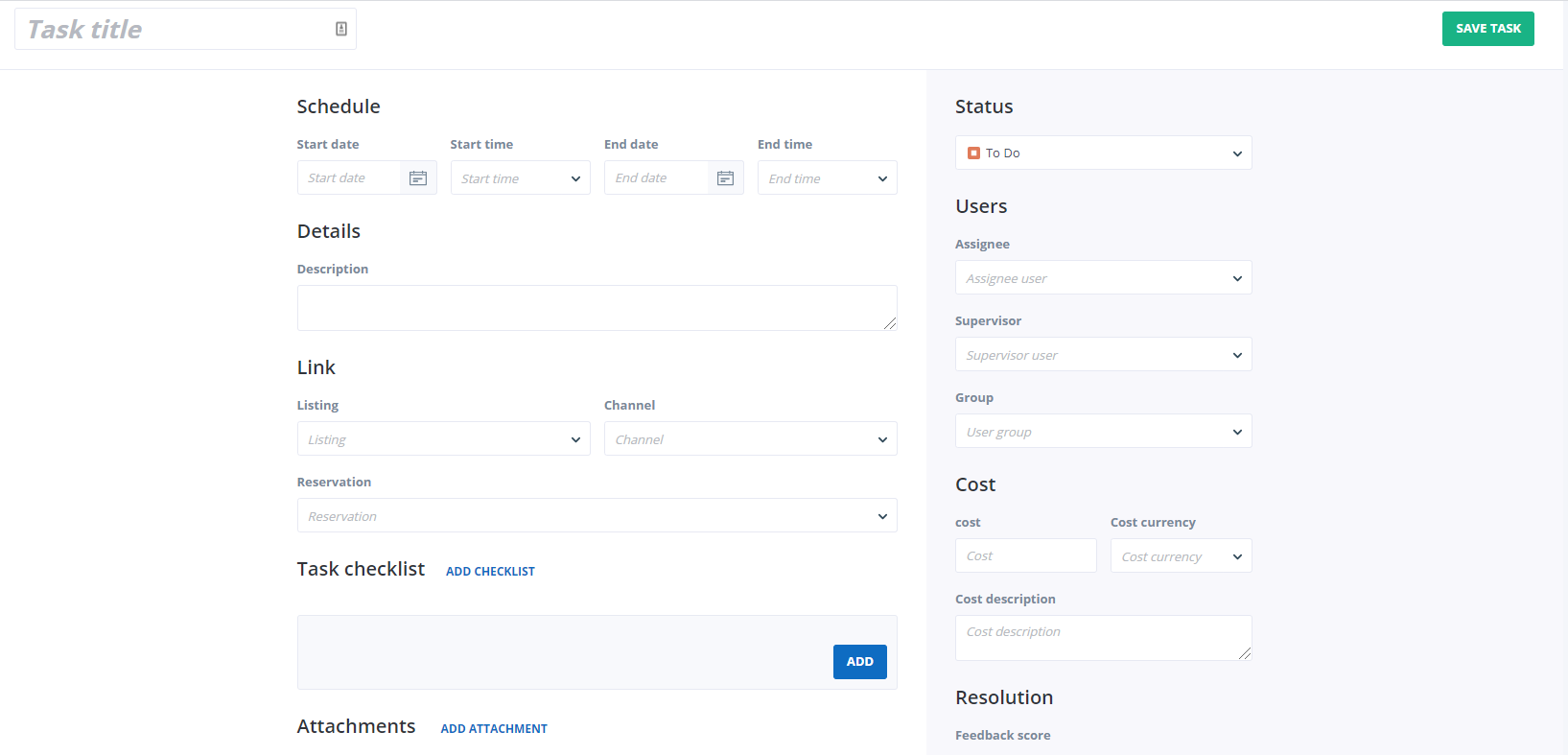 Set up the schedule: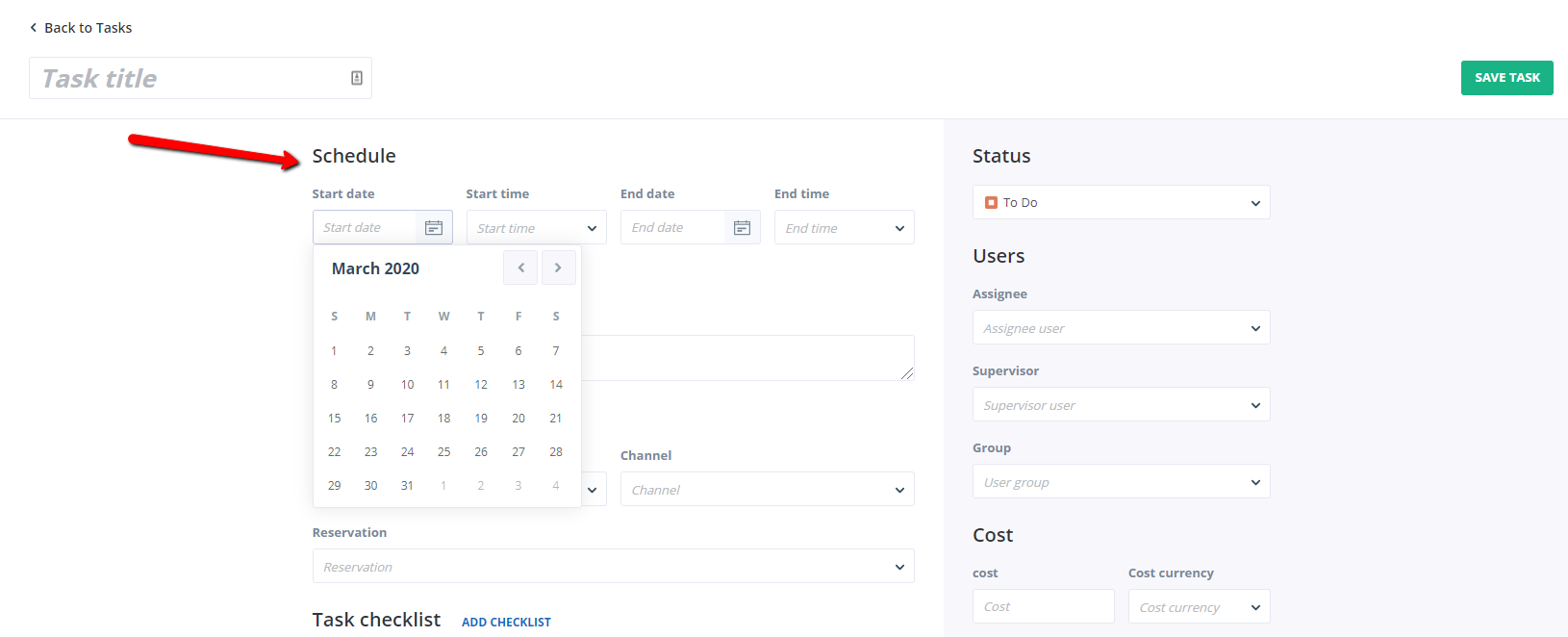 Fill in the details (Title, Description...).
You can create the task for one specific listing and channel. User and supervisor can be assigned if you have them already created in the User Management module. Please check how to create a user.

How to create an auto task?
Go to Tasks > Auto tasks and click on Add auto task

You will see the below view. Fill out the details (Schedule time, Description, User, Listing and Channel):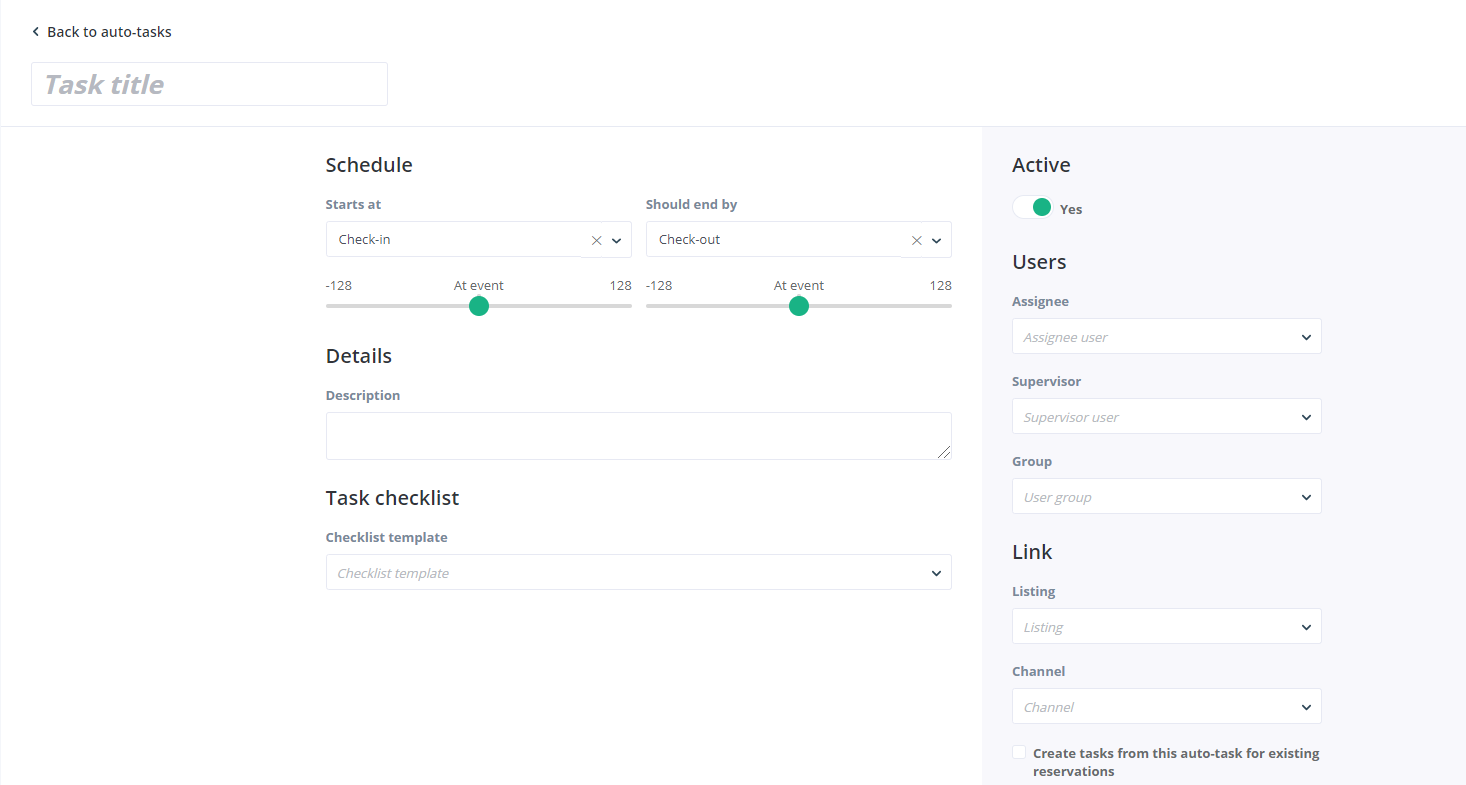 If you want to apply an auto task to existing reservations, please don´t forget to click on Create tasks from this auto-task for existing reservations

 Please don´t forget to save your set-up. 
Duplicate an auto-task
You can click on the "copy" icon next to each auto-task to create a duplicate auto-task

How to change the task status?
Manually by changing the status via the drop-down: 

Or dragging the task to the corresponding column:

What do all the task statuses mean?
To Do: any task that has been created manually or by the system, and it is waiting to be picked up.
Accepted: state to provide feedback that someone accepted to work on it, but the work did not start yet.
In Progress: someone has started to work on the task. 
Done: the work has finished.
Add a checklist to your task
Some of your tasks might need a check if all sub-tasks are done. For example, a guest is asking for a champagne breakfast basket - for this, you can add multiple items to the task checklist so the user or team member can check them off when completed. You can also use the pre-defined checklists that you can create in checklist templates.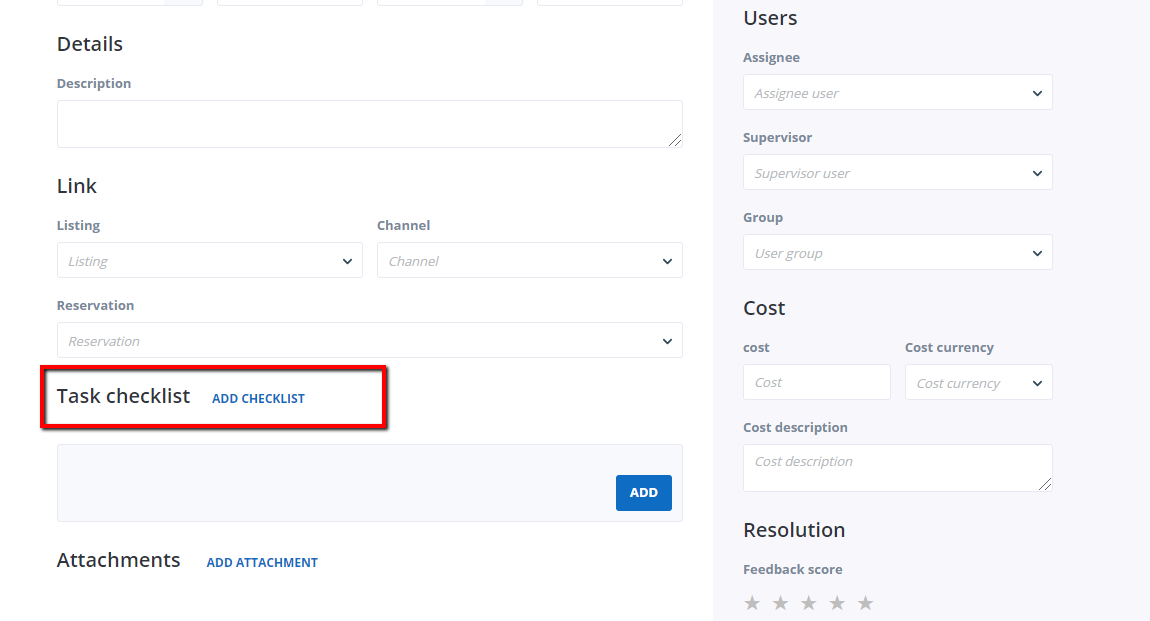 Add task costs
The one who is doing this task might need to spend some money for the task. For example, the assigned user would need to buy new toilet paper and you can add in how much this costs. In this window, the task creator, supervisor, or assigned user can make a note of these costs.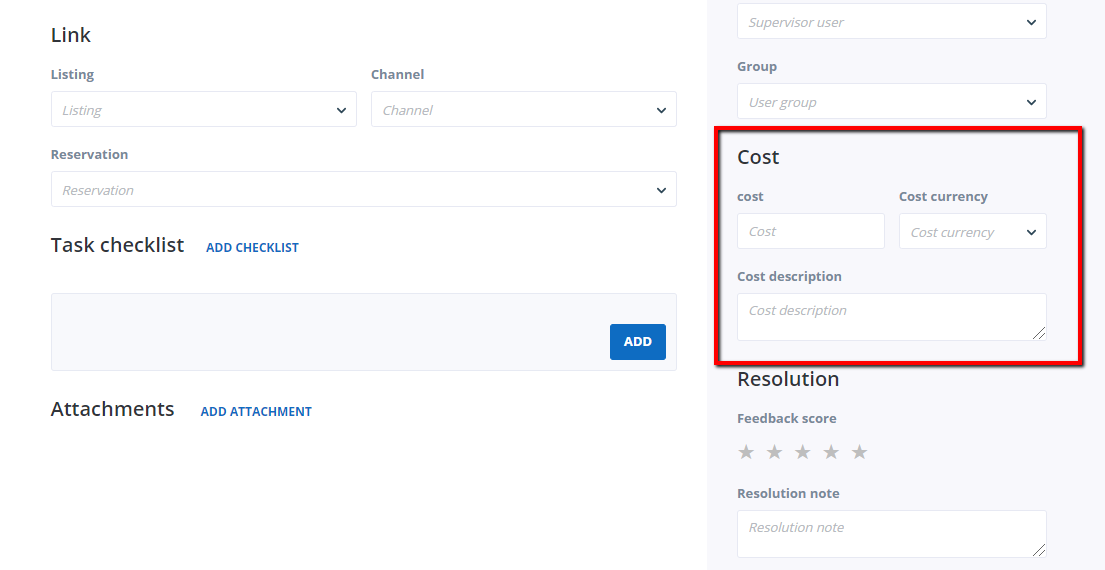 Note: This module has the most common currency options available. When your currency isn't listed, you can leave it empty.
Note 2: This will not be used in Financial Reporting
Add resolution notes to a Task
When you want to get feedback from the task assignee or leave feedback for them about the result of the task, you can use this window and provide it with an end score.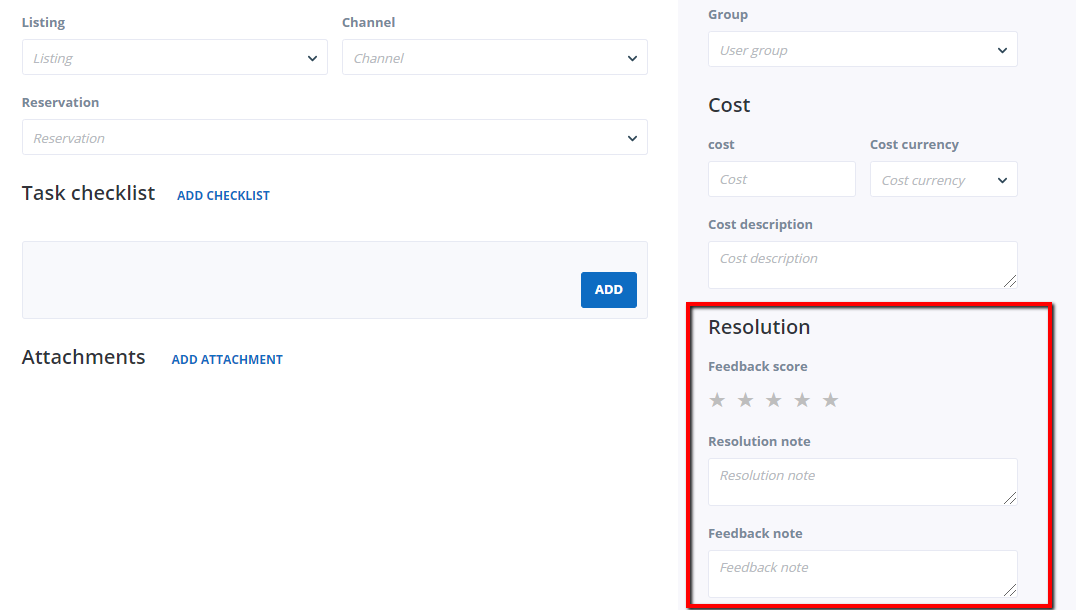 Add an attachment to a Task
You can upload different files to tasks or for example, help your cleaners to upload images before and after they have cleaned the room.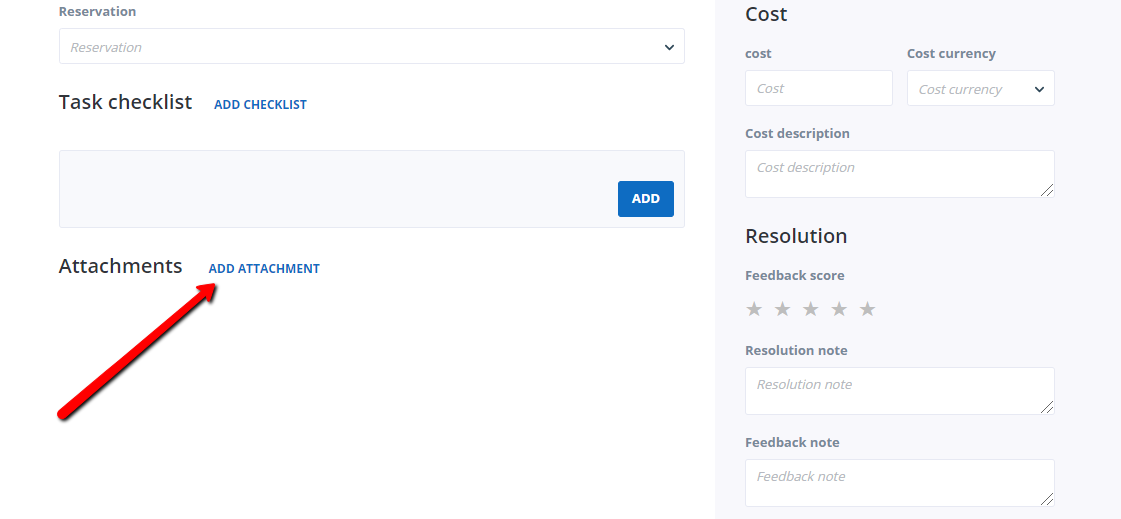 Filter Task
Filtering a task based on Supervisor / Listing/ Channel /Asingee and Sort order: 



When a task is unassigned from a user
When a task is unassigned from a user, Hostaway will notify that user.
When a task assignee changes from one user to another, Hostaway will notify both users.
The notification will include the information about the old assignee and the new assignee.

Unassigned tasks can now be found more easily in the Dashboard

We added a new option to the assignee filters in tasks - unassigned. This makes it easier for you to find tasks that need to be assigned