Beta stage: functions in the beta stage could not be fully tested before we released it to the public. When using a beta stage function, please keep a close eye on its behavior and report issues in detail to support@hostaway.com.
When you use the tasks function in your Hostaway software, you have 3 great ways of keeping track of the tasks assigned to you or those you manage.
You can view tasks by:
Tasks overview page
Tasks calendar page
Task mobile app view
Using the tasks overview page
Login to your Hostaway dashboard and click on "Tasks" on the Menu area.

Here you can filter tasks based on your profile access by the top menu.
Task view options available:
My tasks: tasks that are specifically assigned to you or that you take out of group tasks
Tasks I supervise: tasks you are supervising and usually are the first point of contact in case of questions
Tasks I can pick: tasks that are not assigned to a specific user but to a group of users. Anyone in this group can pick the task by starting or assigning it to themselves if they have access to edit tasks.
The filters can also show tasks only based on the listing, channel, and status.
Starting and stopping a task
Tasks are created requiring a start time and an end time. Those tasks are showed as available in the overview and can be started and ended by clicking on a button.

It automatically records the start and end times inside the task details and marks the task as 'In Progress' when started and 'Completed' when done.
When the assigned user has access to edit under user management privileges, the user is also able to first update the task details by clicking on "Details edit" before ending the task.
Get an overview of tasks by the tasks calendar page
In the Hostaway individual calendar view, you can see what tasks are created for the listing.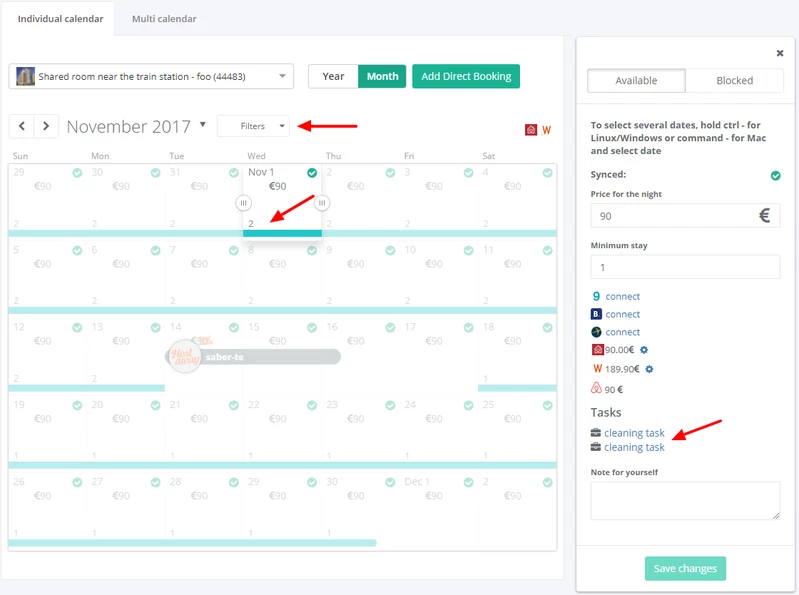 At the top bar, you can filter the view by selecting tasks you are assigned to or are supervising.
The color line is based on the time a task can start and end.
The number at the lower-left part inside a day (in the screenshot above) lets you know that there are 2 tasks for this day for this listing.
When you click on a specific day, you can see the tasks on the lower-right side of the screen. You can click on a task to review its details and start or stop it.
Task mobile app view (Coming soon)
Hostaway offers a mobile app for Apple IOS and Google Android. We are currently building the Tasks function into our apps. When you download the app, you will receive the update automatically to see your tasks here also.
With the new mobile app update you can:
See a list of tasks
Add/update/view task and its checklists
Have easy options to start & end tasks
Be able to filter options for tasks
However, you will not be able to:
Create/update/view/delete auto-task
Create/update/view/delete checklist templates
Keep a close eye on our Blog or find more updates in our changelog found at the top of your dashboard.
New task version
We are happy to announce that we recently released a new task version. Please find more information here.