Formulas are calculations. We have created some default ones for you that you cannot delete but you can edit them.

Note:
They can be created on an account level (Settings > Financial) or listing level and can be modified at any level. Modifications done at the Account level propagate to the Listing but not vice versa.
We support +, -, *, (), /
Default Formulas values can be reset to their original ones after modification by just clicking on the cross (x) next to it
How to create your own formulas?
Click on Add Custom Financial Field
Give it a name (Space is not allowed nor punctuation)

The system will prompt you with any Standard Fields available or other custom formulas. When typing, it will show suggestions.
When creating formulas you can use any operand (*, +, -, /) and even () to determine the order of the operations

Click on Save. The formula will be available on the Listings Financials as a new column.
Note: When a new custom formula is created, it will propagate to all listings as well. But you can modify it on a listing level. It will not update other listings.
When editing a formula on a Settings level, it will edit all unmodified formulas on a listing level. IF you have modified it manually, you will need to update it manually.

When the formula is saved it also becomes available in the Listings Financials table as a new column. The value of the column will show the result of the formula calculation as it has been set up. In our example: (baseRate+Sales Tax) -20:

Using formulas within formulas:
Formulas can be used in other formulas in only 2 levels. This means that if formula A already contains formula B, formula B cannot have a formula C inside it. If a formula is created or edited using a formula that contains another formula the following error will be shown: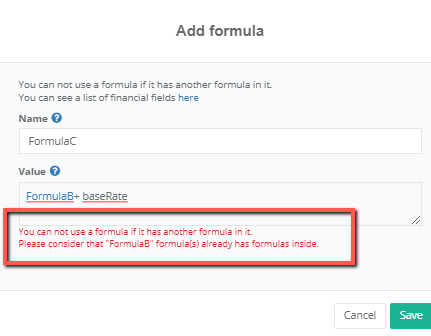 See below some tables with the default formulas content:
| DEFAULT FORMULAS | CONTENT OF DEFAULT FORMULA |
| --- | --- |
| totalTax | vat + hotelTax + lodgingTax + salesTax + transientOccupancyTax + cityTax + roomTax + otherTaxes |
| totalGuestFees | cleaningFeeValue |
| accommodationFee | baseRate + vat + hotelTax + lodgingTax + salesTax + transientOccupancyTax + cityTax + roomTax + otherTaxes + cleaningFeeValue |
| subTotalPrice | hostChannelFee + baseRate + cleaningFeeValue |
| pmCommission | baseRate * 0 |
| ownerPayout | baseRate + vat + hotelTax + lodgingTax + salesTax + transientOccupancyTax + cityTax + roomTax + otherTaxes + cleaningFeeValue - hostChannelFee - baseRate * 0 |
You can find a list of all Financial Fields here