How to connect to TIDY? Follow

TIDY is the ultimate way to automate the cleanings of your rental property. It syncs with Airbnb or property management tools, automatically requests your cleaners for the job, helps you track, inspect, and organize everything remotely. TIDY ensures that there is always someone on the way to take care of the cleaning before your guests' arrival. TIDY is trusted by over 100,000 property managers in the US, rated 4.5 on Google, and has been around since 2013 using powerful AI to automate the cleaning industry.
Benefits of Integration:
A bird's eye view of all your properties, reservations, and cleanings

Save time by automatically setting up cleaning requests. That's right—no phone tag with cleaners.

Bring all the cleaners you work with and love to TIDY and make their life easier, too. Yep. It's free for them.

Get all the tracking you want and need: upcoming jobs, completed ones, and what turnovers need to be done.

Integrating is as simple as clicking a couple of buttons; see below.
Steps to connect to TIDY
1. You will have to enter your Hostaway account and go to the Hostaway API settings or just do it step by step as described below:
Go to

Hostaway.
Go to Settings > Hostaway API
Under the Hostaway Public API, you will find:

Click on the Create button
Enter a name
You will see the API key. We will show it only one time! Make sure to save it
You can find more information about the API key in this article.

You will also need your account ID. You can find it in Settings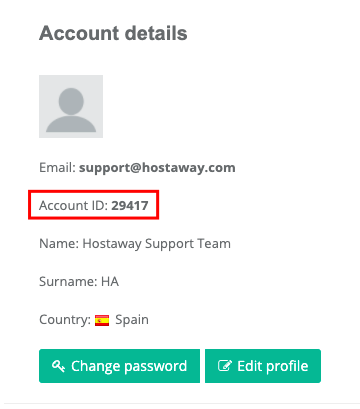 2. Sign up for a TIDY account here.
3. On your TIDY home page, look for and click on "Integrations" in the left menu bar
4. Click "Add Integration" :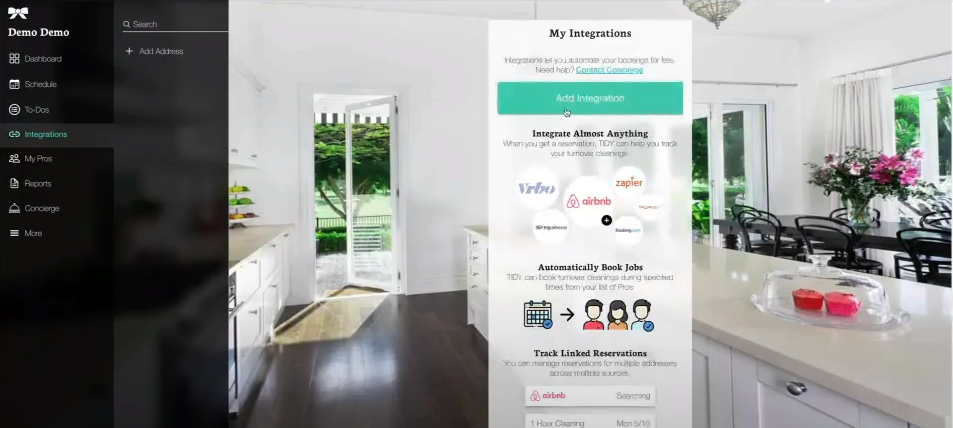 5. A new screen will pop-up, select "Hostaway" among the available options: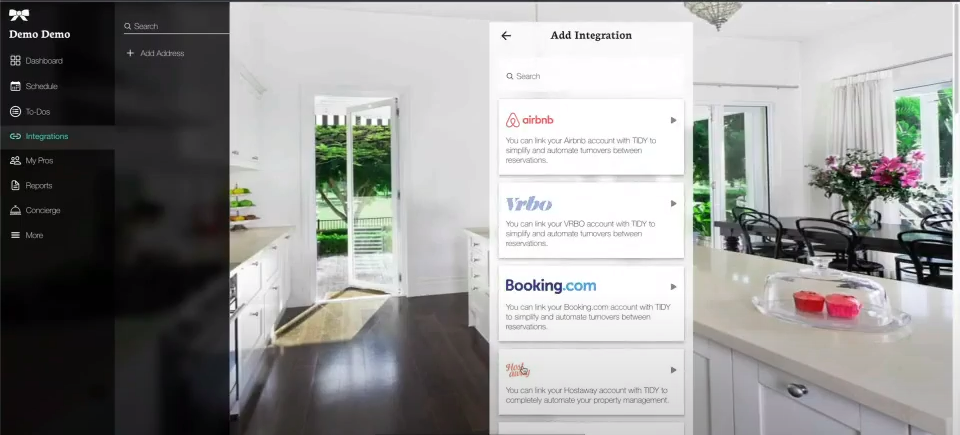 6. Paste your information obtained from the Hostaway account; the Hostaway account ID and API Key in the indicated fields. Make sure that 'Direct' integration option is selected: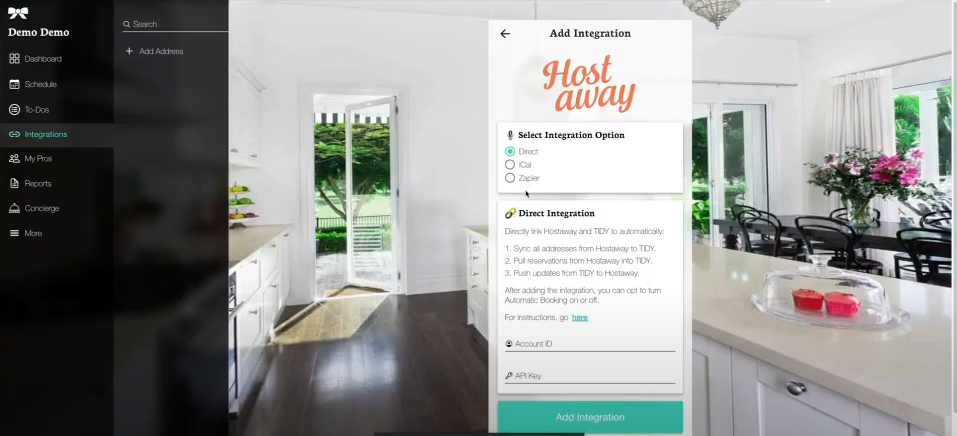 7. Once added TIDY will pull all of your listings as addresses into your TIDY account.
8. Under each address, select "Automatic Booking" and configure it according to your specific needs, such as check-in/check-out time and types of cleaning.
How the Integration Works
After you integrate, TIDY will pull all your listings from Hostaway to create them as properties in TIDY.

When a new guest reservation appears on your Hostaway account, it is also automatically added to your "Reservations" tab within TIDY

Now TIDY knows the reservation details and when to automatically book a cleaning between guest's check-in and check-out

The turnover cleaning follows the instructions you set under "Automatic Booking"

The Pros you already have listed under the "My Pros" section in the app each will have the opportunity to accept the job in the order you previously determined

Once a Pro is assigned the job, they will receive your instructions, access the To-Do List (if you have one), and communicate with you through TIDY.

TIDY will push the cleanliness status to Hostaway after each cleaning is done.

Done! Now your property is ready for the next guest, without you having to worry about a single thing.