How to create Message Templates? Follow
Message Templates
With Hostaway message templates, you can quickly reply to questions such as "Do you have driving directions?", "Where can you find a good restaurant?", "How does the washing machine work?" and more.
Hostaway messaging module allows you to create template groups and individual templates. When you click on one of the template buttons, it automatically creates a message that you can adjust before sending.
Creating messaging template groups
With the Hostaway software, you can add template groups to your account. These groups can be anything based on your own needs and how you run the company.
For example, you can create groups such as 'Administration' for invoicing and reservation templates, 'Building' for templates on how the washing machine is working or 'Activity' for templates about events and things to do in the region.
Create the groups and assign them to channels and/or listings:

Create the message templates
You can create as many templates as you like and assign them to a template group or give them independent settings.
On the top right, click on "Add new template" to start creating one: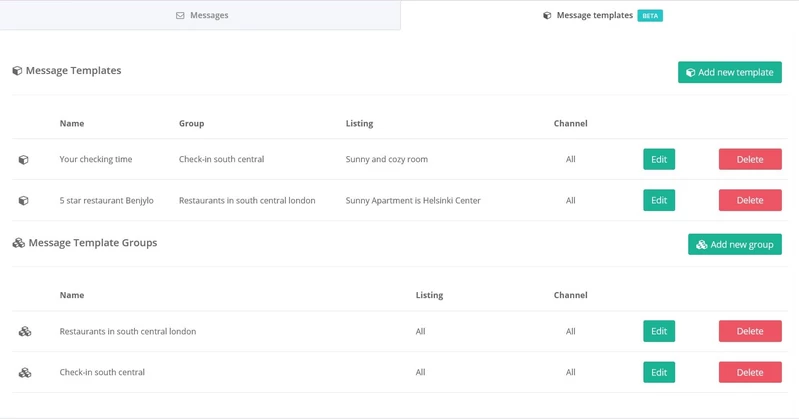 Your templates can be divided based on Channel and/or Listing.
Using a message template
You can access the messages in 2 ways inside the Hostaway software:
On the left, click on the menu "Messages" and use the filters to find the messages you'd like to reply to.
On the left, click on the menu "Reservations", click on the reservation to open the detailed page. At the bottom, you will find the conversations with the guest.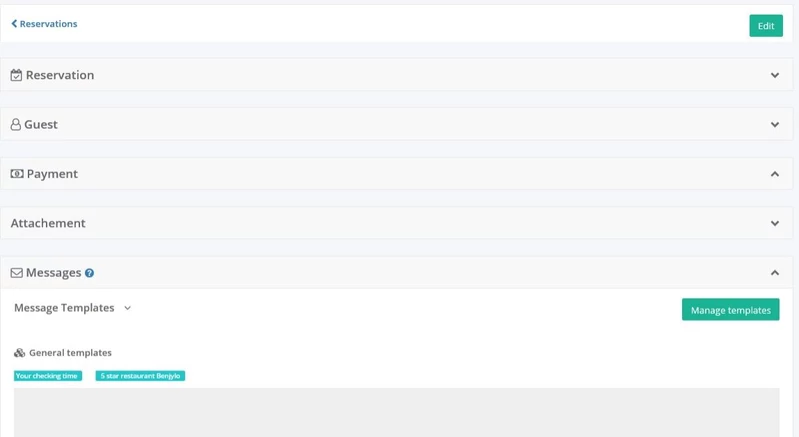 When you click on one of the template names, it will automatically add the message to the message window so you can send it out directly or alter it to your needs.