Message automation offers the possibility to send messages automatically based on reservation events. With this powerful tool, you can generate "Thank you for booking" messages, "Before you arrive" messages, "Leave a review" messages and more!
Automated messages can include information collected from the listing, reservation and other details. For example, you can write: Hello [guest_name] that will then take the guest name from the reservation.
Important: All automation will be created at the moment we receive a reservation. You can find more information on how to edit, pause, delete or trigger right away, in this article.
Create an automated message
In your Hostaway account > Messages > Automations.
For your first automation, the software will give you some suggestions for automated templates.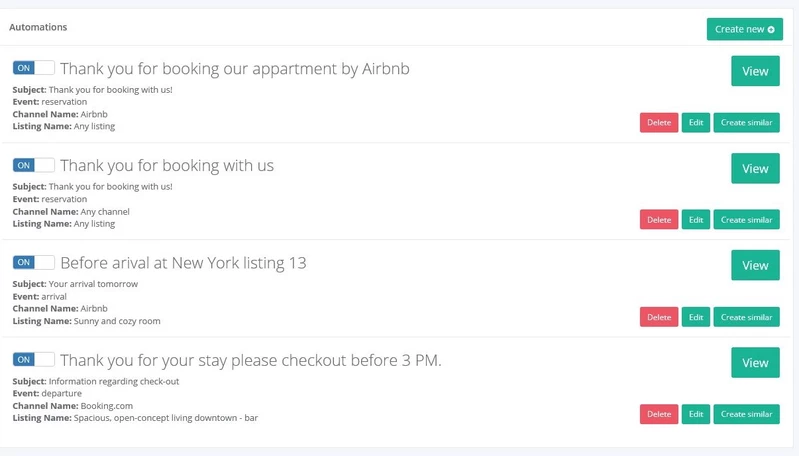 Automations can be created for all channels or multiple channels selection, all listings, multiple listings selection or based on one listing or it can be channel-specific.
In the automation creation window, you can create a new individual automation or use one of the example templates.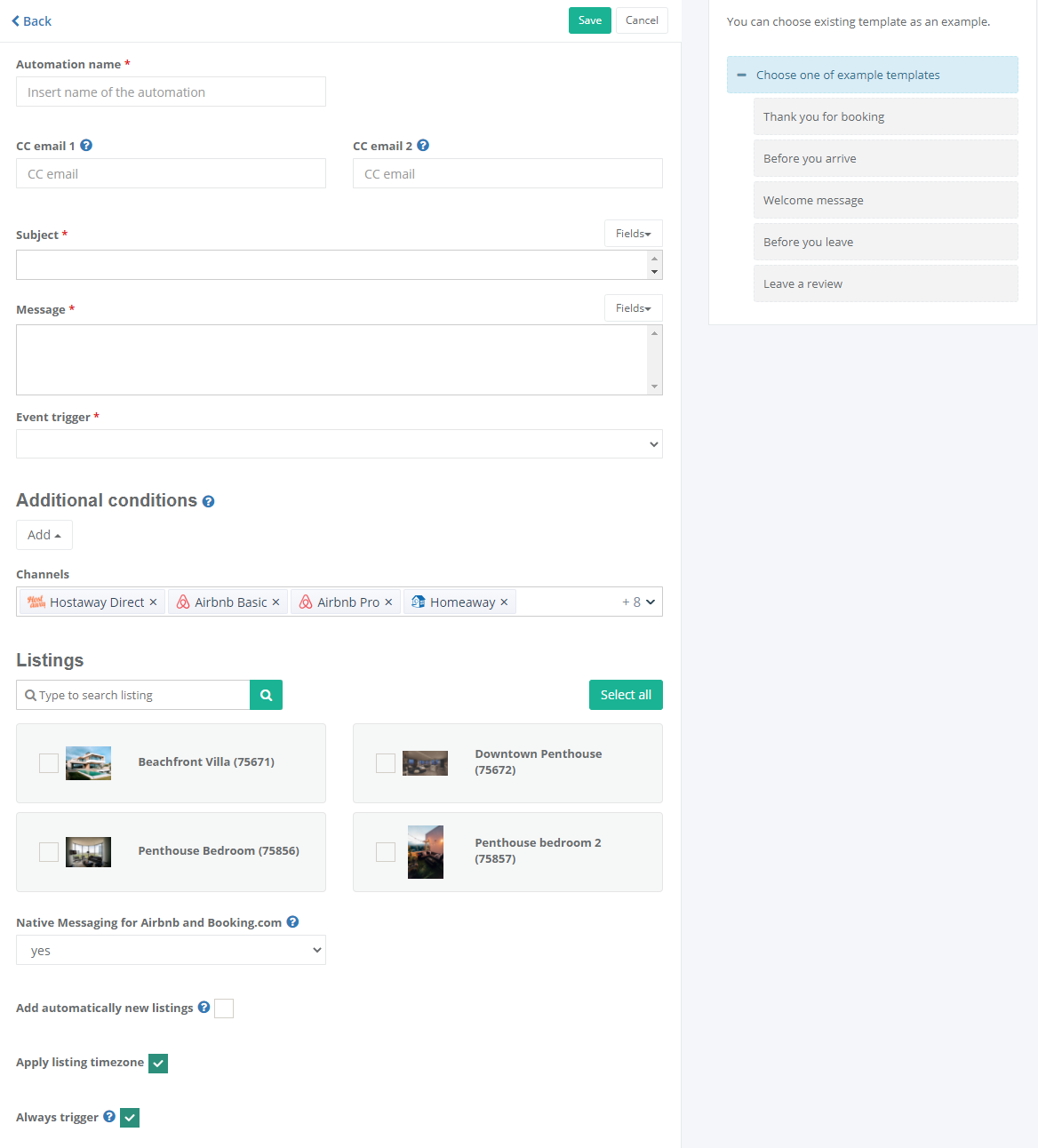 Using fields and custom fields in messages
You can use fields and custom fields for your automated messages. The field you select from the dropdown will automatically add the value that belongs to it when an email is sent out to a guest. For example, if you write "Hello "guest_name" it will then take the name of the guest from the reservation details and replace this text with "Hello John Do":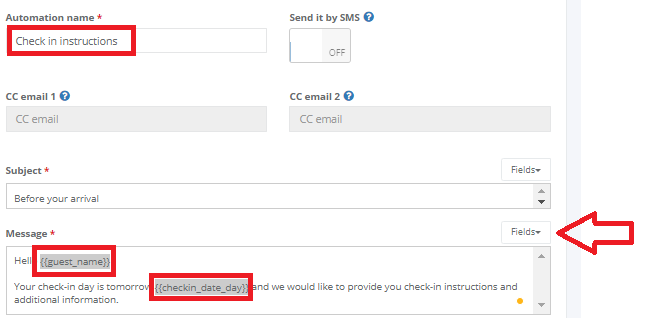 Likewise, you can select any "Feild" which you created under "Custom Fields" and add it to the automation messages that you create:



You can find more information about custom fields in this article.
Note: If (custom) field is empty, it will be replaced by a blank in the message. Always make sure you have entered the information for the fields you are using.
Trigger & filters
The event trigger allows you to select:
Reservation (message is sent when a new reservation comes in)
Arrival (message sent to the guest based on arrival day/time)
Departure (message sent to the guest during or after check-out)
Inquiry
Pending reservation
Cancellation
Payment Success
Payment Fail
Send time
The time for sending out messages can be set freely depending on the event. In this way, you can send messages minutes, hours or days before or after the event took place. Keep in mind that some channels generate temporary guest email addresses that might be deleted before your automation message has been sent out. You might be willing to get the personal email address from your guest as soon as possible to make sure you can reach out to them after check-out.
Example: If you've set an automated message based on 1 hour before or 1 hour after a check-in event, this is based on the check-in time listed in the reservation details. If the time was not provided by the channel, it takes the standard check-in time from the listing details.
Please note, the amounts cannot be superior to 14 days or their equivalent in hours/minutes.
Conditions for Automations
You can have more accurate automation dependent on factors. For instance, if a guest books for more than 2 weeks, you may want to send different messages (with more suggestions, for instance) than if the reservation is for only 2 days.
We have added 2 conditions: Number of guests and Number of nights. They can be combined, and if done, both conditions will be needed in order to trigger the automation.
To avoid too much complexity with the pre-generated messages system we won't allow to modify the conditions once the automation is created.
Send message depending on listing availability
This feature allows adding a new condition to message automations - listing availability. Using this condition, automated messages will be sent only if the listing is available for a given number of days before/after the stay. You can choose the number of days, and whether the condition is for the exact number of days, equal or more to that number, or between a range.
For example, the you can choose to send a special offer to extend their stay only if the listing is available at least 2 days before/after their reserved stay. This is useful to be able to upsell and make use of vacant days between reservations.
Channel
Sending out automation may vary per channel. When you set it up, you can add a message for all your connected channels or add them based on the channel's name.

When removing a channel from an automation: Messages> Automations> Edit> Unselect the channel> Click save. This will stop the existing automation from going from the channel.
Listings
Automated messages to your guests can be sent to the guest who books any of your listings, multiple listings selection or you can create dedicated automated messages per listing.

When adding a new listing to Hostaway, listings can now be added to existing automation: Messages> Automations> Edit> Select the new listing> Save.

When deleting a listing on Hostaway you can stop the scheduled messages from going to the customers: Messages> Automations> Edit> Unselect the listing> Save:

Native Messaging (Airbnb and Booking.com)
if Yes > We will send the message to the channel and the channel will send to the guest. In the way, guests can log into the channel (or mobile app) and see the messages. We highly advise using Native Messaging.
If no > We will send the message directly to the guest mailbox (but will fail if no email address exists in the reservation)
Add Automatically New Listings
Please select this option if you want to automatically add newly imported or created listings to this automation.
Apply listing Timezone
Do you want to use the listing timezone? If not, please note that the default timezone is GMT.
Always Trigger Function
We have an "Always Trigger" that can send the messages at an impossible time. This is mainly used to ensure that last-minute reservations will receive the messages even if there are other triggers that are usually sent before the check-in time. Always trigger function is used only with Arrival/Check-in event trigger.
Examples:
An automated message meant to be sent 1 day before checking-in (03:00 PM) but the guest has just reserved on the current day will still be sent to the guest.
An automated message meant to be sent 1 day after checking-in (3:00 PM) but will be checking out the next day (11:00 AM) will still be sent to the guest even if the guest has already left the property.
However, when not ticked off (meaning it's not marked), will not send the automation if it's an impossible time.
Example: An automated message meant to be sent 1 day after checking-in (3:00 PM) but will be checking out the next day (11:00 AM) will not be sent to the guest as the guest will already have left the property.
What you need to know
After automation is created you'll be able to edit the automation name, subject, and message. To edit automation go Messages> Automations> Edit Automation> Changes can be applied to the upcoming messages:


When disabling an automation, an option will appear to allow you to delete pre-generated message but do bear in mind that if you enable the automation afterwards (and have deleted those messages) no messages will be generated for existing reservations