How to connect to Tourmie Follow
Tourmie is a brand-new way to manage, assist and engage your guests, from the moment they book their stay to the moment they arrive back home.
Their vision is to provide an all-in-one online platform for travelers where they will be able to discover and book easily personalized experiences for all the needs of their stay. They aim to strengthen the travelers' relationship with the local community by offering them unique experiences from reliable travel service providers recommended by their hosts.
Connect Tourmie with Hostaway
1. First you need to register with Tourmie, you can sign up with them here.
2. Then you need to find your Hostaway ID and API key. You can activate the connection from the 'Marketplace' for the relevant partner to generate your API Key:
Go to the Hostaway Dashboard.

Click on 'Marketplace' within the dashboard, then search for the relevant partner and click on the 'Connect/Configure' button available there:



This will expand the partner box and you can click on 'Connect' again to start generating the Keys:



Then you can click 'Create' to generate the API Key:



The new credentials will then be presented on the screen. Please make sure to copy and save the API Key safely as it will be visible only once:

3. Then, go back to your Tourmie account.
Go to Settings >Developers > Integrations.
Find Hostaway and click Connect.
4. Enter your Hostaway Account ID and API Key and click Create connection.
5. If the connection is successful you can click Manage to map your Hostaway properties to Tourmie: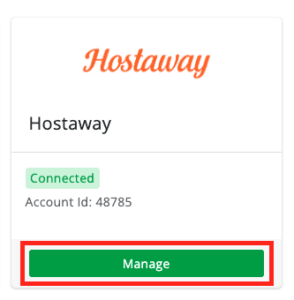 If you have already added your existing Hostaway properties to Tourmie, click the icon to start mapping your listings.
If there are any existing Hostaway properties that haven't been added to Tourmie, click the icon to automatically import your listings.

When you finish mapping your properties, click Update.
Your Hostaway account and listings will then be connected with Tourmie. You can refer to this guide from Tourmie for more information or contact them here.