Listing Tag
Introduction
The tagging system allows adding tags to listings to make filtering easier.
This feature will allow you to filter by tags in almost all modules, and then only items from the listings corresponding to the selected tags will be shown.
Hostaway also has a "Quick tagging" tool in Listings to allow assigning/substituting tags for many listings at the same time.
Adding and managing tags
In listings > Basic info tab > under External listing name a field called Tags exists: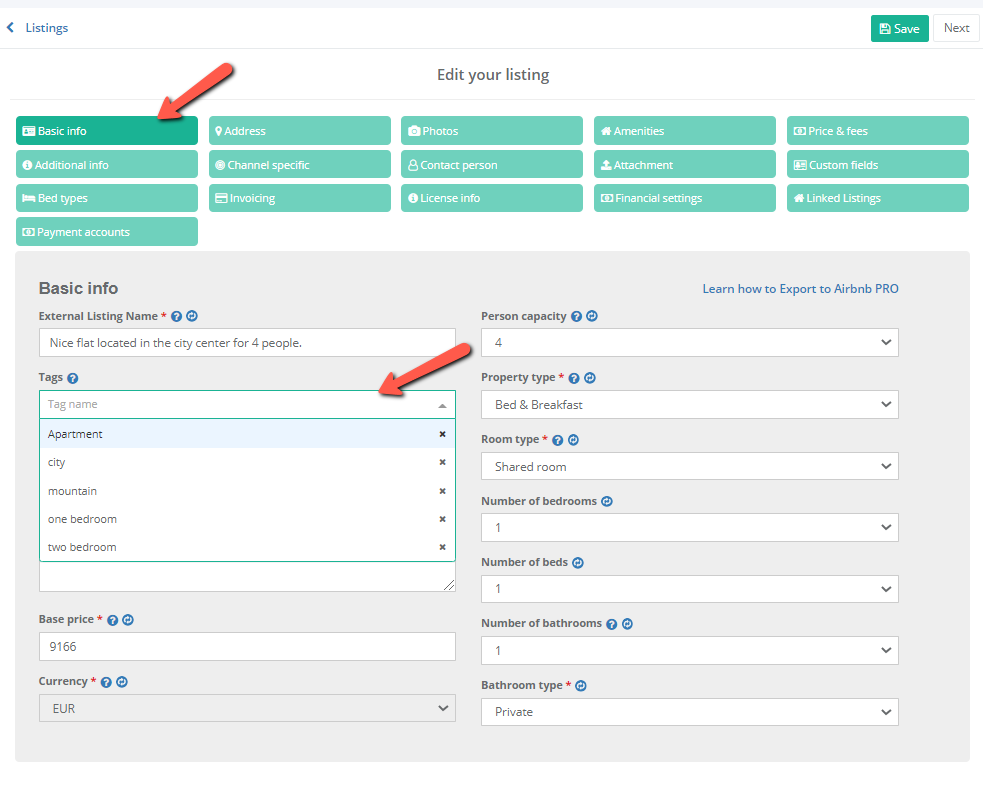 In this field, the account owner and/or the admin level right users can create and assign any tags.
To create a tag, you just need to start typing the tag name. Pressing enter or clicking in the tag name shown below (with "new"). This will create the tag and add the tag to the listing (once created the tag, it will also be available to the other listings).
If the tag has already been created you just need to click the dropdown arrow and select the one you want to use.
In the same way that you can add tags, you can remove them from the listings. For that, you just need to click the cross (x) on the already selected tag.
These tags will also appear on the Listing cards. And from there it is also possible to add and remove tags:

Tags can also be completely deleted. For that, you should click on the cross on the dropdown next to the tag. This will show a pop-up confirmation explaining that deleting will cause the complete erasure of these tags.

Filtering
The main advantage of assigning tags to listings is that it allows filtering in many places based on those tags. Hostaway not only allows to filter by listings that have these tags but for almost anything: reservations, messages, tasks etc. that belong to the listings that have these tags assigned.
An easy example: You cannot add tags to a reservation, but if you filter reservations by tag "Swimming pool" you will see all reservations that are linked to listings that have this tag.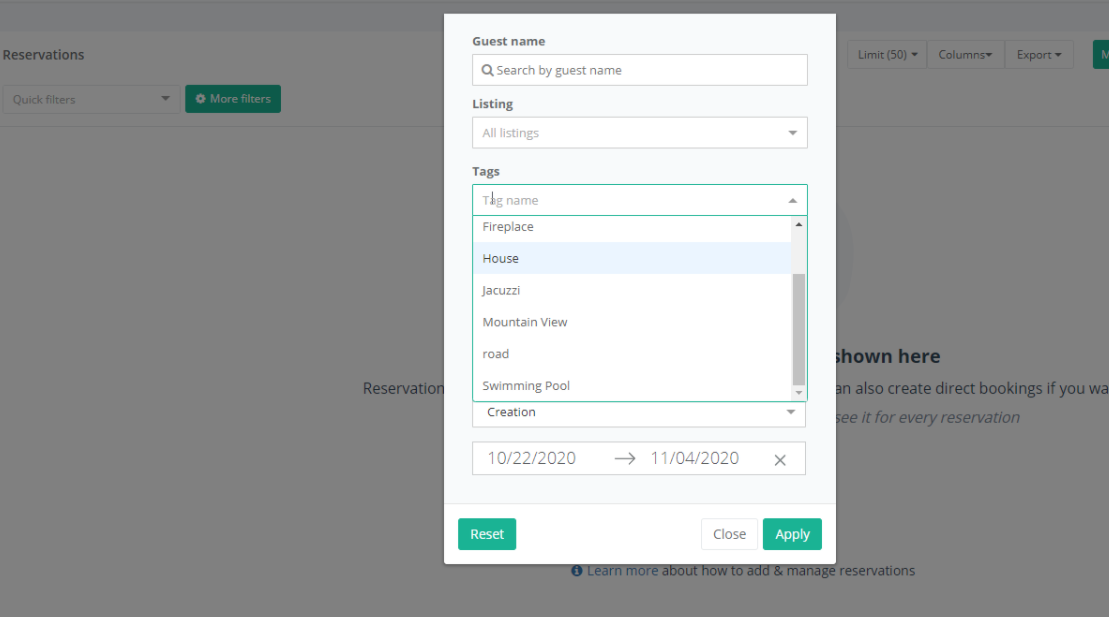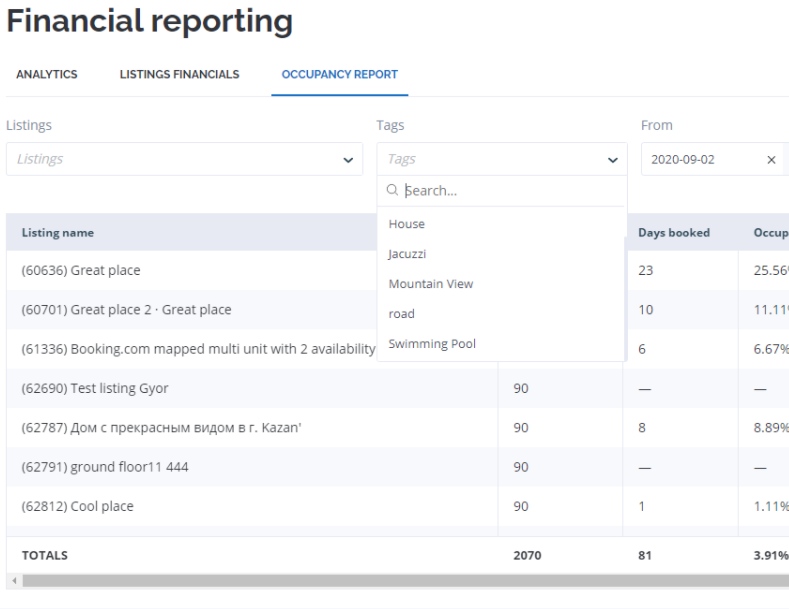 Quick tagging
To apply the same tags to several listing, Hostaway offers a tool in Listings called Quick tagging.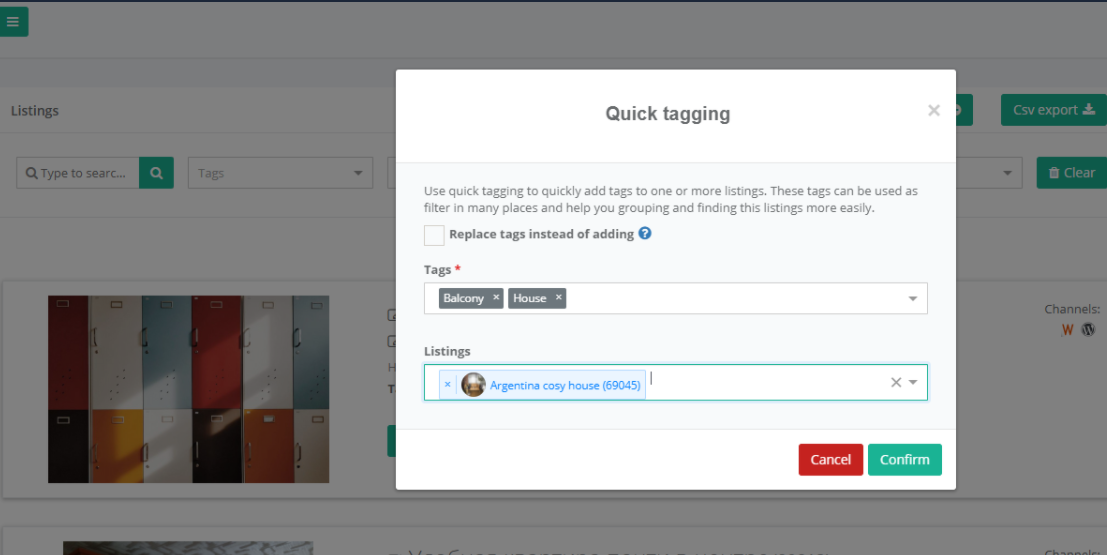 With this tool, you have the option to add new or existing tags to one or more listings or even delete the existing ones and replace them with others (if you check the option "Replace tags instead of adding")
Permissions
Account owners and Admin-level right users will have access to all the tags in the dropdowns (plus the ability to assign/add/remove tags when this option exists)
An option in user management called "Allow listing tag management exists". If ticked, it will grant the ability to assign/add/remove tags when this option exists to the user but bear in mind Hostaway will take into consideration as well the listing access limitations of that user (if any).

Users without this option selected and that are not admin-level right users will:
Only see tags applying to the listings they have access to when it comes to dropdowns and listing blocks, and no option to remove/add/create new tags.
Have the Field Tags greyed out in the listing edit page, even if these users have edit permissions for listing.
In the listing blocks, only see the tags (they will be clickable) but no option for adding or removing them exists.
Not see the "quick tagging" option in Listings

Important note: Tags are free text but have a character limit of 25 characters