Reservations: Discount Coupons Follow
Introduction
The coupon feature allows you to configure and create coupons that can apply to direct reservations, reservations coming from the booking engine, and the WordPress plugin.
How to create a coupon
To create a coupon follow these steps:
Go to Hostaway Dashboard > Reservations
Click on Coupons > "Add Coupon"
Note: Coupons can only be created by account owners or admin-level right users.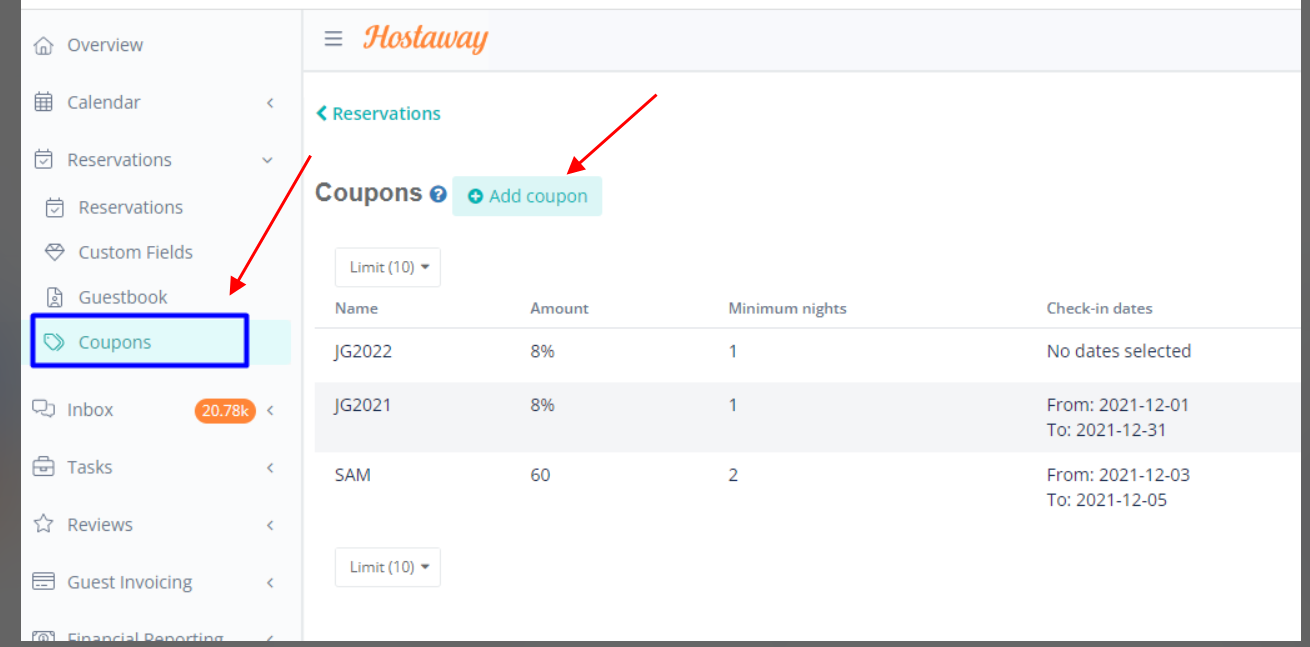 When you click "Add Coupon" a pop-up will request you to fill out some information: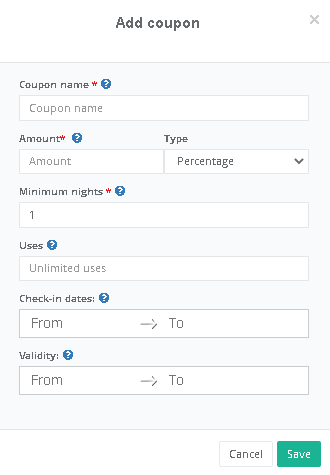 Coupon name: To identify the coupon

All coupons on the same Hostaway account must have a different name

No spaces are allowed

Amount: It will be the discount that will apply

Discount can be a percentage (example: 5%) or a flat value (example: 20 EUR if listing in EUR)
This discount will apply to the base rate of the reservation

Minimum nights: You can define the minimum nights you wish the coupon to apply to (if less, it doesn't get applied)

By default, it will be 1

If for example, you define the value as 3, then the coupon/discount is applied only for reservations of 3 nights or more

Uses: it defines the number of times the coupon can be used

By default, the value is of unlimited use

Check-in dates: you can limit the coupon to be used only for check-in dates between a certain period

It has a "from" and a "to" to select a range of dates.

You can leave it empty if you don't want to limit the coupon/discount to a specific check-in period

Validity: defines the time during which the coupon can be used

It has a "from" and a "to" to select a range of dates.

You can leave it empty if you don't want to limit the coupon/discount to a specific period
About the coupons...
All the conditions are accumulative, meaning that all have to be met at the same time to apply a coupon
When the coupon is saved, it will be shown and by default, it will be active
It is not possible to edit or delete existing coupons. However, it is possible to activate or deactivate them
Only active coupons can be applied to reservations
Coupons can expire if the validity date already passed
How to apply a coupon
Coupons can apply to Direct, Booking Engine, and WordPress Plugin reservations.
Please be aware that all custom discounts must be applied manually, none of them apply automatically. Custom Discounts can only be added manually when editing the reservation or when creating the reservation in the dashboard. We do not support last-minute discounts for the Booking Engine.
In direct reservations, Booking Engine, and WordPress, you will see a new option to "Add a coupon". Only 1 coupon can apply per reservation.
To be able to introduce it, it is necessary to first select a listing and a check-in and check-out date so the system can calculate the correct discount. The coupons apply to the base rate, but the system also takes into account the price for extra persons and discounts as part of the base rate.
When you introduce a coupon that meets all the criteria you will see a confirmation message and the total price will be automatically adapted.



It is not possible to cancel an already-applied coupon for a direct reservation. If needed you can cancel the reservation and create a new one.
If the coupon cannot be applied, the system will show the reason. For example: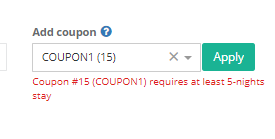 In the Booking Engine & WordPress Plugin the option will also be available if check-in and check-out dates are selected:




You will see it as part of the breakdown. In this case, this coupon is 10%, applying to the base rate and price for an extra person (so 10% of 2.000+500 which makes 250).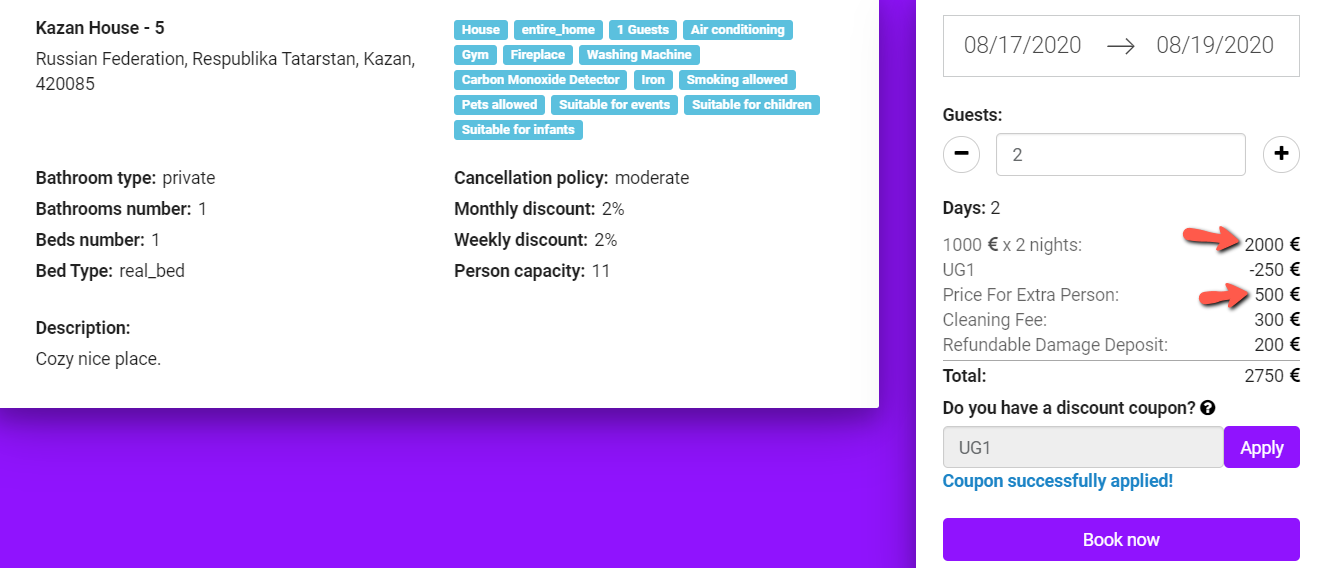 Coupons also apply independently from having any other discount (weekly discount for instance).
How to delete a Coupon
Only coupons that are not used can be deleted by pressing the X icon on the right side next to the status column.

If a coupon was used even once, deleting it would be impossible. So it is best to double-check the name and settings of the coupon before sharing it with the guests.