How to delete a listing? Follow
Deleting a listing
Activate/Deactivate a listing
The function to activate or deactivate a listing in the Hostaway dashboard has been depreciated. It is no longer possible to temporarily suspend a listing from the sync. Listings that are no longer needed should be deleted. Do remember that deleting a listing doesn't deactivate the listing on the channel as well that by deleting a listing all listing data inside Hostaway will be permanently deleted.
Background: Over time Hostaway and the channels have improved the way channels are syncing, updating reservations, messaging and other information with the software. Due to these improvements, it's no longer allowed to have listings in an inactive state as this will cause various synchronization issues when the listing is reactivated again.
Before deleting a listing
Before deleting any listing, export any necessary information from Hostaway and make sure to do the following:
Note: Your account is protected against accidental mass delete risks. If you are going to delete multiple listings contact support to request temporary provide you with a higher number to delete listings.
Check which channels the property is connected to.
Download all reservations and other information you would like to preserve for later use.
Unmap all room IDs from all channels that the listing is connected to by going to Channel Manager > Channels > Configure Airbnb or Booking.com or other channels:

Example: Listing is connected to Airbnb, Booking.com and Expedia:

1. Unmap the listing from Booking.com.
2. Unmap the listing from Expedia.
3. Unmap the listing from Airbnb.

You may need to inform the API connected channels that you are no longer use the Hostaway software for this listing
If it's connected via an iCal connection, deactivate the iCal connection.
Keep in mind that the listing is still active on the channels and would need manual removal per channel.
Deleting a listing
Note: You might receive an error when deleting a listing. Please contact support@hostaway.com
Go to Channel Manager > Listing mapping.
On the same row of the listing that you want to delete, click on the 3 dots and click on "Delete listing".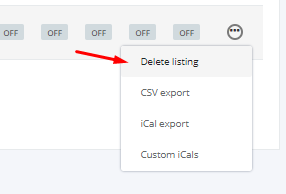 Deleting a listing cannot be reverted and custom fields that are based on the listing will be removed as well. Your monthly invoice is automatically adjusted pro-rated accordingly to the deletion of the listing.