How to Use the SMS Feature? Follow
SMS Feature
SMS Feature is part of the unified Inbox that centralizes all host-guest communication under one tool, removing the need to move between different OTA's applications and even devices in order to save time and increase responsiveness
We support two-way SMS (text messages only) communication with a 140 characters limitation.
How to Setup SMS feature in a Message Automation
The steps are identical to creating regular message automation. In order to create message automation, please refer to our guide on How to create Message Automations?
You will find a toggle switch "Send it by SMS." Make sure to turn it ON.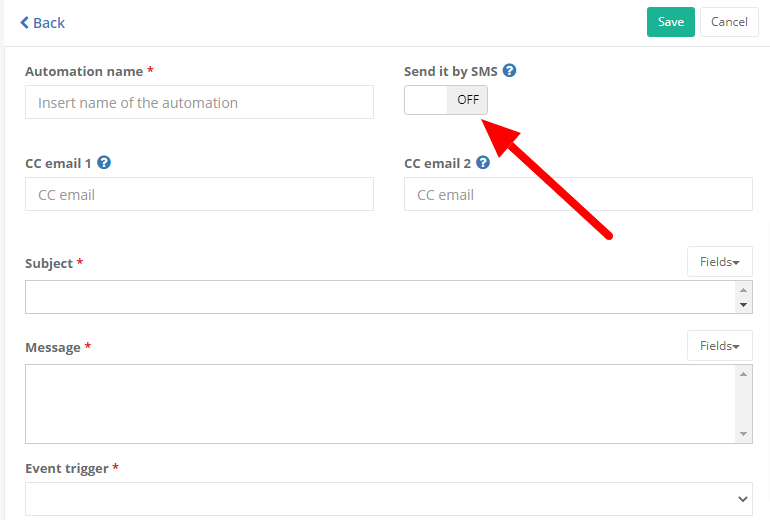 How to send an SMS in Inbox
You can send an SMS from your inbox by selecting "@" sign with "via SMS".
Please make sure that the reservation has a valid phone number; if not, you will not be able to select this option.
Limitations
We can only guarantee two-way SMS messaging in the US, Canada and UK. We send SMS with a US number and the guest should have a US, UK or Canadian phone number to have the SMS feature 100% work. Due to that, we cannot guarantee the SMS reply of a guest in other countries can be received in Hostaway:
A guest might find it as spam
A guest might reply but have calls/SMS blocked for foreign numbers
A guest carrier might block SMS replies to foreign numbers
Do bear in mind that the failed SMS most likely does not generate an error on the guest side for them to know it wasn't sent. Even if in Twilio it says SMS is supported for that country, the above issues can happen.

Also, please have into account that "SMS sender name" is not supported for the US and Canada. Adding a name on this field results in "internal error" for the SMS sent.


Is the SMS feature activated by default?
SMS feature can currently be activated for US, UK and Canadian clients.
If you are from another region outside of those mentioned above, please contact support@hostaway.com to activate this feature. There can be some limitations for clients outside the regions mentioned in the limitation section.