How to use WhatsApp?
You can communicate with guests, using WhatsApp, via the Inbox.



If you do not visualize this option in your account please contact us using this form.
Once selected, you should select the template you would like to send to the guest (if communication was not already started or initiated by the guest):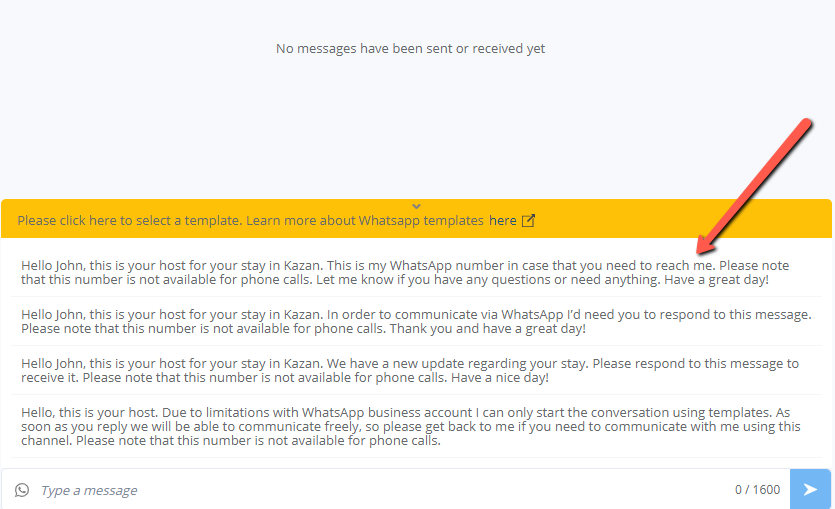 You can then click the arrow to send the message/template and the guest will receive it on his/her WhatsApp account. Currently, WhatsApp messages will be sent using a US phone number allocated to us by a CPaaS and this same number will be used for all WhatsApp messages sent out from your Inbox.
Understanding WhatsApp Business Message Templates
As per WhatsApp's Business rules, in order to start a conversation with your guest, a pre-made message template needs to be used. Hostaway provides you with four pre-made WhatsApp-approved message templates that can be used over and over. At this time, these templates cannot be modified as per WhatsApp rules.
If a guest has sent you a WhatsApp message — whether it is a reply to one of your outbound messages, or they have initiated communication themselves — you will have a 24-hour window (sometimes called a "24-hour session") to send your guest messages that don't need to use a template.
For instance: you have initiated a conversation using a template and your guest has replied. You will have 24 hours to continue the conversation freely starting from the last guest reply. After 24 hours have passed with no further guest messages, and if you wish to continue the conversation, you will need to use one of the Hostaway, WhatsApp-approved, message templates again.