Hostaway Customer Support Help Center Follow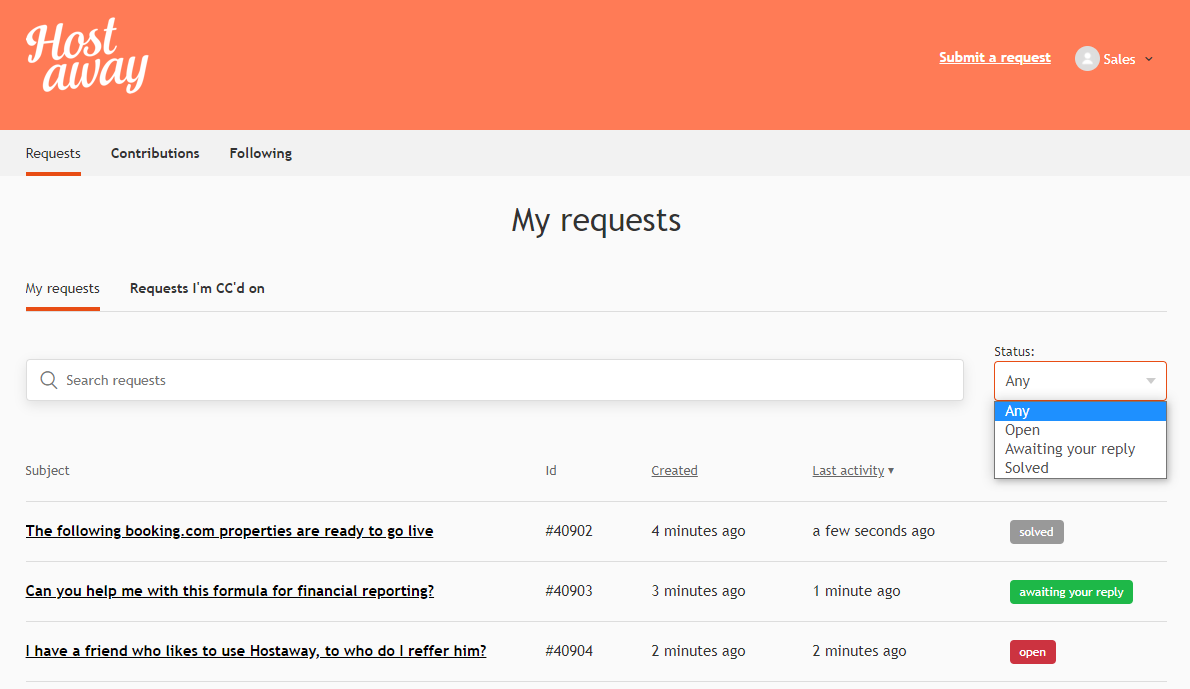 Hostaway offers to all clients and their users a dedicated Help Center. In the Help Center, you will find many "How-to" guides, help videos, past webinars and other tips and tricks. From there, you can also contact Hostaway Support Team.
Set up your Customer Support Help Center access
First, make sure to have access to Hostaway Dashboard (Admin or User level). If you don't have access, you will not be able to log into the Help Center.
Enter the email address you use to log into Hostaway Dashboard (Important: The email address as to be the same)
You will receive an email to reset a password
Once done, you can go to our Help Center
On the top-right corner, click on sign-in
Enter your email and password you just created
On the top-right corner, click on your profile > My Activities.
You can now see your requests
Using your Customer Support Help Center for support requests
Sending a new support request
When you are logged in, you can easily create a new support request by clicking on the Submit a request (top right corner). Depending on your question, the Help Center will show you related articles that may help you. If you did not find the answer, you can complete the request by writing your question and uploading attachments if you wish.
Reviewing your support requests
See all your support requests in your personal activity center. You will be able to see all your own requests, requests where you have been added to in CC to. All requests have one of the following statuses:
Open: Our support team is working to answer your request as soon as possible
Awaiting your reply: We have replied and are waiting for your answer
Solved: Your request has been answered and solved with the best possible solution
To see the answer or to follow-up with additional comments, you can click on the request title. At all times, you will be able to follow up on your request.
Did you already solve the request yourself? Use the option to mark your request as solved.
Customer Support Help Center tips
Keep your requests and title as much as possible topic-specific. For example when your request is about "How to add a new user to my account?", it is better to open a new request if you have another question such as "I need to import a new Airbnb listing". This will help you later to find previous answers. Plus, on our side, we will be able to assign different specialists to your requests for faster support.


Provide as many specific details related to your request as possible. When a guest is sending to you a message such as "I would like to book", you will have to ask the guest "What/When/Where do you wish to book?".
The same counts for your Hostaway support requests. When your question is about a listing, specific dates, a guest name, a channel, etc. Provide the id, name, channel, channel id, or dates when sending in the request. Anything that can help us identify the issue faster. In our experience, this will lower the resolution time massively.


Use the same email address as your Help Center login for all requests. The Help Center will only show your requests when they are coming from your email address or is added in CC to a specific request. It's strongly recommended to use the Help Center: "Submit a request" or "Reply to request" functions as much as possible. You can still send or answer emails from your email account to/or coming from support@hostaway.com as long as you use the same Help Center login email address. Requests sent by an unknown email address will not show in the Help Center.
White label/trust the mail address support@hostaway.com in your email software. The Help Center will send you notifications when a new reply has been given to your request. Most email programs will not mark this email as spam. But we never know. That is why we strongly advised to verify out email account is marked as white-labelled/trusted in your email software.
Frequently asked questions for the Help Center
Should I use the Help Center or direct email to contact a specific person? We strongly advise you to use the Help Center or email address support@hostaway.com at all times. All team-members are prioritizing this channel above their personal email account and so you can expect faster support. If you wish to address a specific person simply start your request with "Hi XXX" and it will be assigned with priority.


Is it mandatory for all my team members to have a user account in Hostaway.com? During Q1 - Q2 2021 we expect this to become mandatory for all support requests.


Why does Hostaway motivate the Help Center to be used? We already have a complete Help Center that you can check 24/7. In 2021, the Help Center will offer you more options, videos/webinars, and "User Case" that will help to stay up-to-date with the latest releases.


I need to change my email address, how do I do this? Open a support request with your current email address and the new email address you will be starting to use. Our team will be happy to assist you.
NOTE
- An Hostaway admin CANNOT see user requests