How to connect to Property Protect? Follow
Property Protect was designed by Hosts, for Hosts. They understand the financial impact or logistics involved when you rent out your personal home or investment property and how complicated it can be when things don't go smoothly. Their digital insurance platform offers short term rental policies in a straightforward and completely paperless way. In just a few clicks they make it easy to sign up, get insurance coverage and when that unfortunate time comes, they make filing a claim a piece of cake.
SecureStay offers HostAway clients the ability to purchase automated, damage or theft policies for property damage that may occur during guest stays. Preserve the primary homeowner's policy from small claims. Owners and Property Managers don't realize that frequent small claims filed during a premium year position the property into a higher risk category when the renewal approaches.
SecureStay operates independently from the primary homeowner's policy. Their policies act as supplemental insurance which can be automatically inserted into every reservation. By inserting SecureStay into your property rental, you are adding a layer of protection that will address damages from your guests.
Examples of claims:
If a guest breaks furniture in your home, SecureStay may cover it.
If the home is robbed and items are stolen, SecureStay may cover it.
(some exclusions may apply)
Easy Sign-up Process:
Step 1. Create your account on SecureStay
Step 2. Connect your HostAway account with SecureStay
Step 3. Add your credit card on file for automated policy issuance

Your listings will sync and when a guest checks in they issue an instant
certificate for the specific dates of stay.
Connect to SecureStay
1. Register on SecureStay here.
2. Then, you need to find your Hostaway ID and API key. To do so:
Go to

Hostaway.
Go to Settings > Hostaway API
Under the Hostaway Public API, you will find:

Click on the Create button
Enter a name
You will see the API key. We will show it only one time! Make sure to save it
You can find more information about the API key in this article.

You will also need your account ID. You can find it in Settings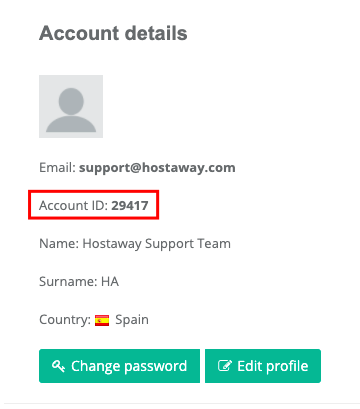 3. You can add the Account ID and API Key in the Property Protect integration details page:
4. In the next step you will have to add your payment details:
5. After registration, you will receive a verification email on the one you provided during the registration
process to verify your account on SecureStay.
Once Verification is complete you are ready to go. You can Manage your live transactions on the SecureStay dashboard when you log in. Please look for an email from SecureStay for your policies purchased and account status.