How to access Owner Statements Follow
Access to statements
In order to view or modify owner statements, you need to ensure that your user profile has been granted the required permissions. This is usually set up by the administrator as per the requirement. However, you will be required to contact your account admin directly in the event that you are unable to view this feature or cannot modify a statement that has been assigned to you.
Read-only Vs Modify
If your user profile has been only granted permission to view (Read-only) owner statements you will be able to see and select statements that have been assigned to you but cannot edit filters and dates for the same as they will be greyed out.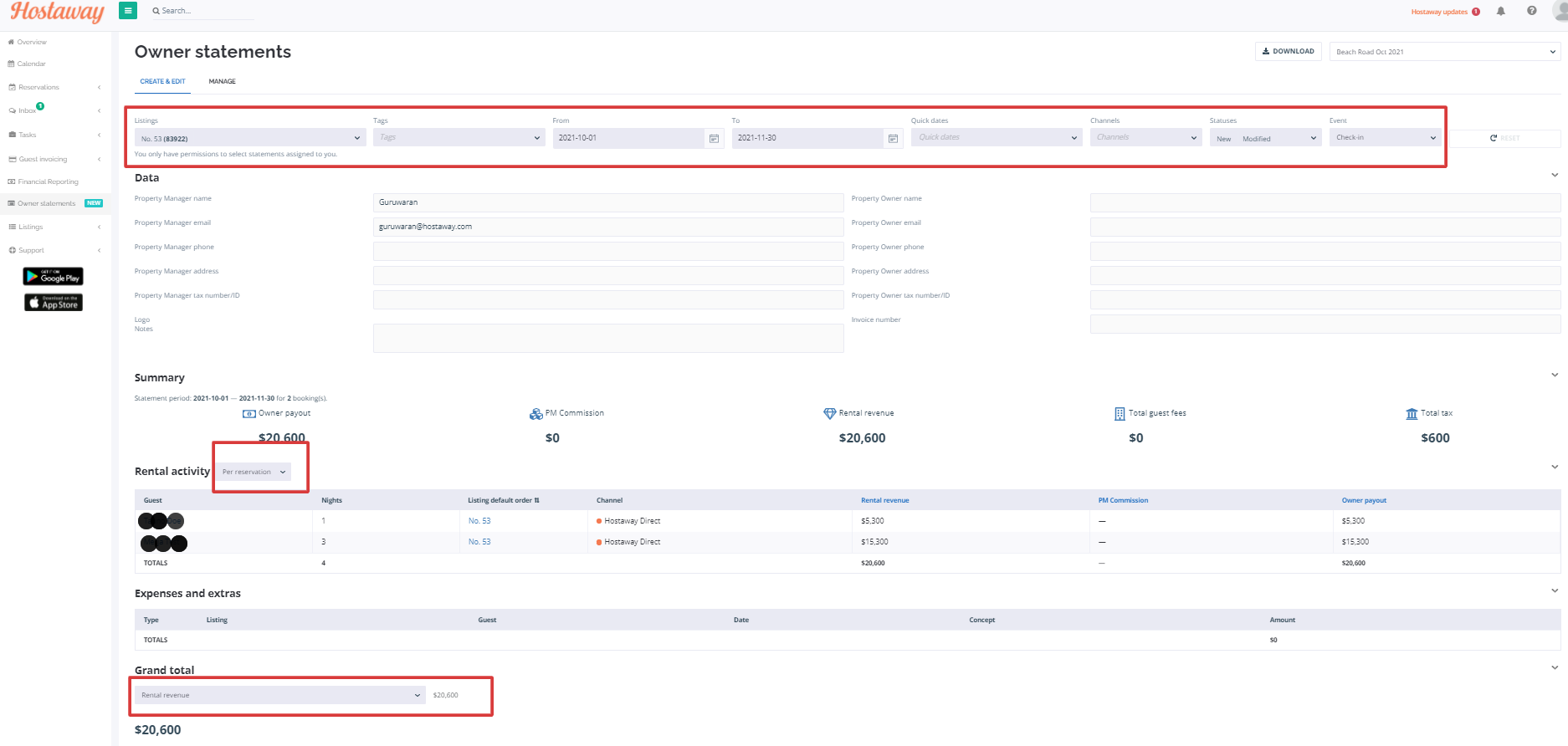 However, if permission has been granted to modify as well you will be able to change filters like Dates, Listings, Tags, Channels, Statuses, Events and adjust columns within the statements that have been assigned to you. Once amended you will be able to download or print the statement.
Filters:
Dates: Set a time period for the report.
Listings: Select specific listings you would like to create the report for.
Tags: Select specific tags set within listings to group them so the report is generated accordingly.
Channels: Filter the report for specific channels like Airbnb, Vrbo etc.
Statuses: Filter the report by reservation statuses like New, Modified, Cancelled etc.
Events: Specifies the type of event within a reservation to be considered for the time period selected. Please note that the 'Calendar' event considers only the dates specified regardless of the check-in or check-out time within a reservation.
Manage Owner Statements
You can select statements assigned to you in the drop-down menu in the top right corner:

You can also make use of the 'Manage' tab to filter, archive and view all the statements assigned to you. Archiving "hides" it from filters but it can be recovered:

Filtering helps to search statements and highlights by the owner and see the total sum for that owner. Archiving "hides" it from filters but it can be recovered.
Some other already existing options such as assigning statements to users (owners) are available for each of the statements displayed. Please note that user permissions are also considered here to limit filters and actions.