How do Vrbo inquiries work?

An inquiry is a question from a guest that wishes to book the property. You can either decide to accept it or not.
The inquiry will appear in both the inbox section in Hostaway as well as the reservation section.
Can I accept VRBO inquiries in Hostaway?
Yes, you can!
Please make sure that you do have the content API activated and that there is an email address available in the reservation details to reply to the guest.
Once a guest will send in their inquiries via "Ask Manager A Question", you will need to answer the guest from Hostaway. A reply to the guest will automatically approve the request and the guest will receive in their email inbox your reply and buttons to either "Reply" or "Book Now":
Once the guest clicks on "Book Now", the inquiry will then turn into a reservation.

Please note: A Vrbo (formerly HomeAway) inquiry will have a proxy email address of xxxx@messages.homeaway.com that will show the inquiry message thread that you have with the client on Vrbo. However, once this inquiry has turned into a reservation, Vrbo sends the real email address of the guest and from that moment on you are supposed to email guests directly moving forward.

You can see this in a more visual way below: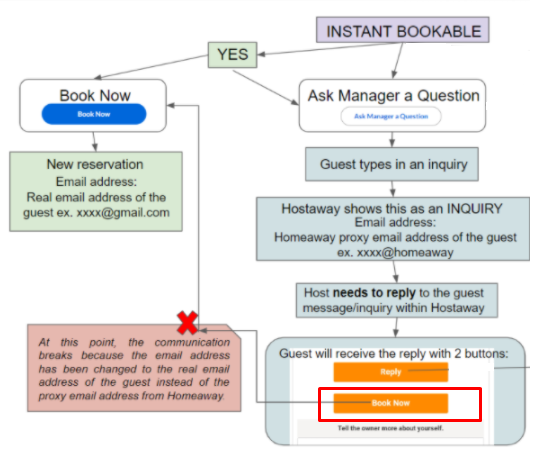 Does Hostaway support messages for VRBO inquiries?


We have the full support of messaging for VRBO inquiries. In order to be able to receive and send messages throughout inquiries, you need to add your VRBO proxy email address (aka VRBO inquiry address) in the Vrbo dashboard as a secondary email address.
To get this email address, open your Hostaway dashboard and then go to Channel manager → Channels → VRBO → Settings (upper right corner).

Important note: When Hostaway imports an inquiry, the initial message from the guest will be imported regardless of this setup, and outgoing messages will be delivered to the guest, too, but incoming messages (other than initial) won't be fetched and displayed in our dashboard if you don't use the proxy email as secondary email address

Inquiry messaging flow:
Hostaway fetches the inquiry from HomeAway API every 5 minutes with the proxy address. The inquiry is initiated by the guest
Hostaway shows the inquiry in the reservation section and in the inbox section
You can reply to the inquiry using the Hostaway inbox and the response will appear in the VRBO dashboard of the guest
Guest can reply back from his VRBO dashboard
Hostaway will receive the reply as an email message from VRBO and will show it in the Hostaway reservation and inbox thread.