How to connect to VacayMyWay? Follow
VacayMyWay is a privately owned company with its headquarters in Denton, Texas. Started in 2019 by Jim Stewart, Ted Hight, and Billy Smith, the team at VacayMyWay is comprised of industry veterans, travellers, and hosts. A combination of talent spanning over 75 years of vacation and rental industry expertise.
VacayMyWay was created with the traveller and host in mind – lower costs for guests and more revenue for hosts, thanks to a wholesale pricing model. With a focus on unfiltered communication between guests and hosts, Vacay brings trust and transparency to vacation rental travel. Our goal is to return to the fundamentals, and joy, of planning vacations by simplifying the process.
Connect to VacayMyWay
1. First you will be required to sign up with VacayMyWay by clicking here.
2. Then, you need to find your Hostaway ID and API key. To do so:
Go to

Hostaway.
Go to Settings > Hostaway API
Under the Hostaway Public API, you will find:

Click on the Create button
Enter a name, preferably 'VacayMyWay'.
You will see the API key. We will show it only one time! Make sure to save it
You can find more information about the API key in this article.

You will also need your account ID. You can find it in Settings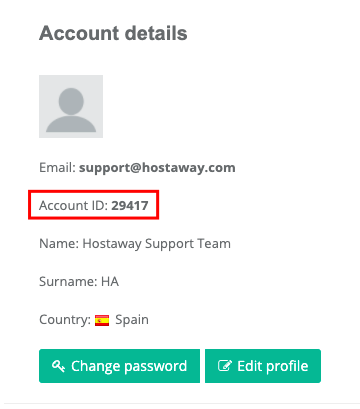 3. Log into your VacayMyWay account and click on 'Settings':
4. Then select 'Integrations' on the left and 'Hostaway':
5. Now you can copy and paste the Account ID and API Key you created in Step 2 in the fields available:
6. Then you can click the 'Connect' button and your properties will begin importing. For many properties, the import may take some time. Once the import is finished, your properties are ready for publication. You will also receive an email in regard to the integration completion with Hostaway: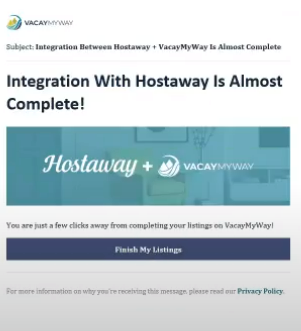 You can click on 'Finish My listings' within the email or navigate directly to your VacayMyWay dashboard to complete your listings and update mandatory fields to ensure they are published. If you need assistance publishing your properties, please contact us at support@vacaymyway.com.