How to set Seasonal Rules for other Channels? Follow
Seasonal Rule / Rule-sets
Now you can set up seasonal Rules for other channels in Hostaway Dashboard. Reach out to our
Support Team to activate the availability rule option for your account.

Seasonal rules work on the calendar level. When selecting a date or a range of dates in the individual or multi-calendar, you will see a new option called "Rule Set"
Airbnb Seasonal Rules
For Airbnb, we have more options.
To learn more about Airbnb Season Rules, you can read this article on How to create Airbnb seasonal rules?

How to set up the seasonal rules for other channels?
Note that for channels other than Airbnb, we only support Closed to Arrival and Closed to Departure settings.
List of other channels
By other channels we mean: Booking.com, Booking Engine, WordPress, & Vrbo

How to create a Seasonal Rule?
Go to Dashboard > Calendar > Select a day > You will see the Seasonal Rules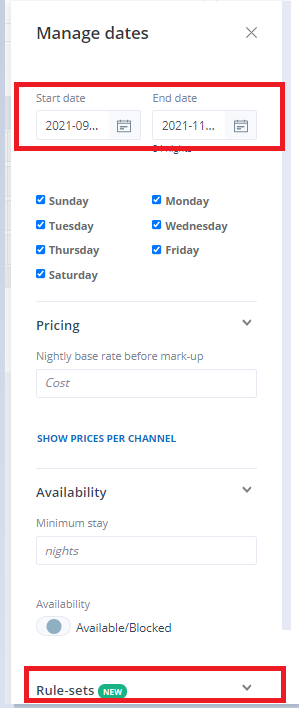 To create a new rule, click on "add" > Add a Name and rules. You will then be able to select these saved rules in the drop-down menu.