Suspended listings in Airbnb Follow
Suspended listings in Airbnb
When a listing is suspended by the Trust & Safety team of Airbnb it starts generating sync errors which eventually will make the Hostaway system turn OFF the sync with Airbnb for that listing and flag it in the Hostaway dashboard: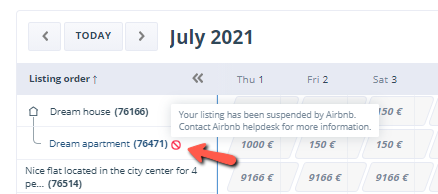 This action is automatically done by the Hostaway system when errors start to happen.

If you find yourself in this situation, you'll need to:
Reach Airbnb (if needed) to make sure the listing is made live once again.
As soon as the listing is live again, reach the Hostaway support team using this form.

Restarting the sync is a manual action, so, you will need to reach the support team, otherwise listing will continue without syncing.