Automated Airbnb Guest Reviews system Follow
Create automated reviews for Airbnb channel
Not enough time or like to make sure you always leave a review for Airbnb guests? Hostaway offers you a great system to automated your Airbnb guest review replies. The automated reviews system allows you to have just one or more templates for your listings hosted on Airbnb.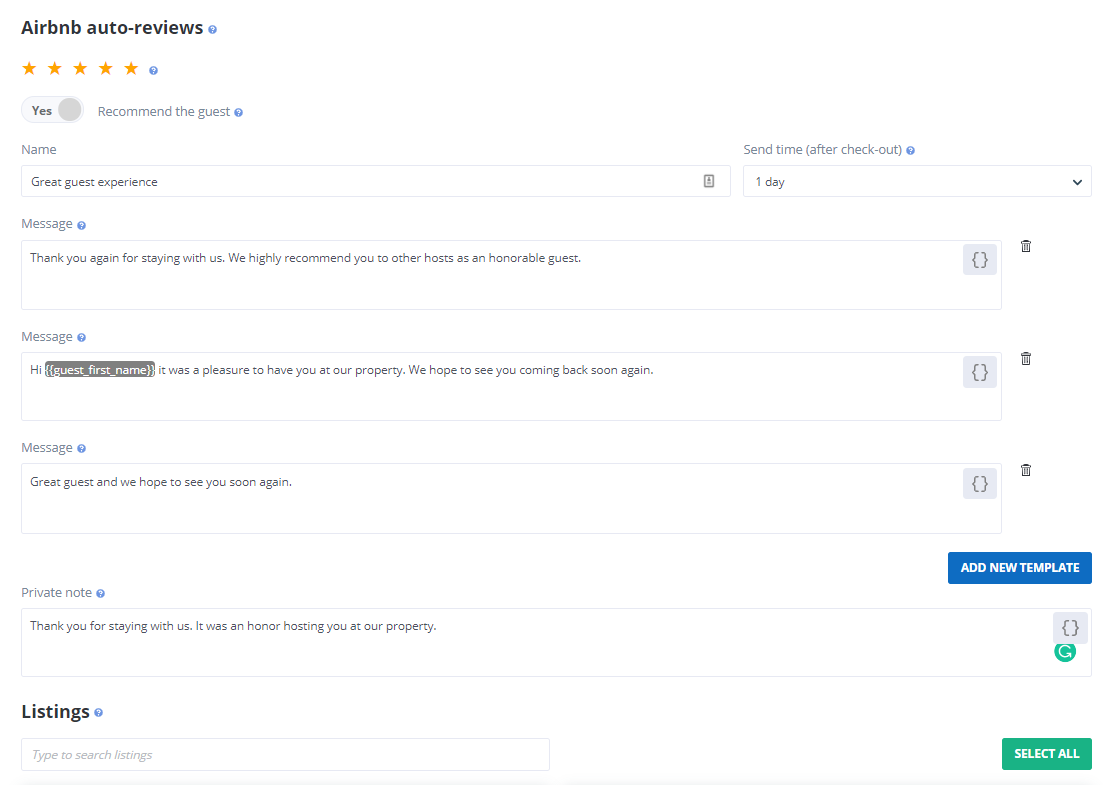 Set up your templates
In your account go to reviews and select the tab Auto-reviews
Click on the button add auto-review to start editing your template
Give it an internal title. The title is only used to find the template back and will not be published in reviews.
Set your send time between 1 to 13 days after the guest check-out date.
Provide at least 3 different "review messages" to be used by the system. The more you have here the better it is. To add more lines you can use the button add new template button.
Provide a private note for the guest
Select the listings this template should be used for. You can have more templates with different listings.
Save the template to activate it.
Automated review FAQ
Why are automated reviews only available for Airbnb?
Airbnb is the only channel at this moment that asks you to review the guest. Other channels do not support this way of working for now.


Why do I need to write 3 or more messages in the template?
The automated review system randomly takes one of your messages per guest review to be sent out. There is a minimum of 3 messages needed and we strongly advise to use more variation that you can add by the Blue add new template button.


Why do we strongly advise to have more messages in the auto review template?
The reviews are publicly published on Airbnb and linked to your host profile. Having one and the same message for every guest will show others you always say the same thing. This lowers your Host ranking and trust in the Host profile.


Can I adjust or stop an auto-generated review to go out?
Yes, by setting the sent time after check-out you will see the reviews as "scheduled" in the software. This gives you time to adjust or stop the review before going out.