Add or map new listing from Airbnb in Hostaway Follow
Add/map a Hostaway listing to Airbnb
To add or map a new Airbnb listing you'll need to follow the below steps:
Click in "Channel Manager" followed by "Channels"
Click in "Configure" in front of Airbnb Pro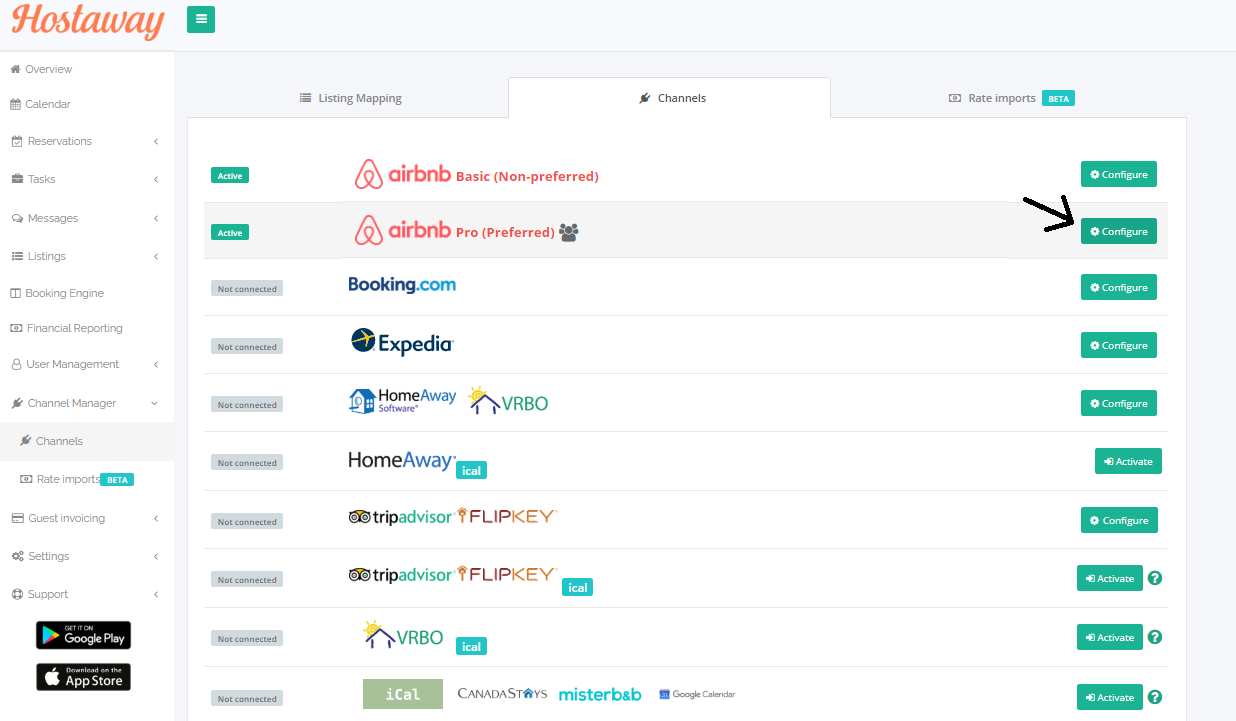 3. In the account the listing is in, click in "Import & Mapping"

4. Depending on what you need, either click on "Import" or select the listing and click map:

Import: It is for situations where the listing you have in Airbnb does not exist in Hostaway. By clicking Import, a new listing will be created in Hostaway and connected to the one in Airbnb.

Map: You connect the Airbnb listing to an existing listing in Hostaway. It will not create a new listing in Hostaway and that is why you need first to select the listing you want to connect to in Hostaway and only after click in "Map"

Reimport: It will use the already made connection between Hostaway and Airbnb to update the listing settings in Hostaway with the ones that are present in Airbnb (for example, if you wish to update the photos in Hostaway with the ones you have in Airbnb).
It does not reimport calendar values/settings.
Whenever you press reimport in the channel manager, you will see a warning that your settings may be overwritten by the settings in the channel. This will allow you to prepare or make changes as necessary.
Important note: to import or map a listing in Hostaway, the listing needs to be active (listed) in Airbnb and you need to be the primary owner of the listing there.
Also, please note that if your listing is not suitable for children, make sure in Airbnb the reason why it's not suitable is filled out (under "booking settings" > "house rules")

Additional information to take into account:
You can search listings by entering Airbnb listing ID. Number of listing are shown on the top

and by clicking "Next" the page will do 20-listing jumps (each page will include 20 listings).

Once Airbnb is connected, Hostaway is the Master Calendar for the property.
All changes to availability and rates should be done in Hostaway only.
When importing a listing, initial availability and rates will be imported to Hostaway.
You have to be the owner of the Airbnb account and ensure you are not a Co-Host account. As a Co-Host, you will not be able to import listings.
Your listing(s) cannot be located in Singapore.
Make sure Smart Pricing in Airbnb is off for all the listings that you are importing. See page www.airbnb.com/manage-your-space/listing id number/pricing
Cross listings are not supported in Airbnb (if you have it, you'll need to set it up in Hostaway directly)
Sync Status should stay Limited
Your listings need to have valid license information for your region.
Your listings meed to have valid local law information provided in Airbnb.
Your listing will not use the setting BookingWindow inside Airbnb (if needed you can set it up in Hostaway directly)
Your listing cannot use external calendar import (if so, the iCal import needs to be setup in Hostaway instead) or is connected to multiple Airbnb listings (in that case cross listing needs to be setup in Hostaway instead)

Upon connection, Lengh-of-stay discounts (except Weekly and Monthly), Early-bird discounts, Last-minute discounts and guest notes in the calendar will be resetted. Please take note before connection and after you can go to Airbnb and set them up again. The same thing will happen to the rules in the Airbnb calendar (rule-set will remain but you'll have to apply them again to the calendar dates after connection).