How to use Occupancy Report? Follow
Occupancy Report
You can find the Occupancy Report in Financial Reporting > Listings Financials > Occupancy Report
You will be able to download a report in a CSV format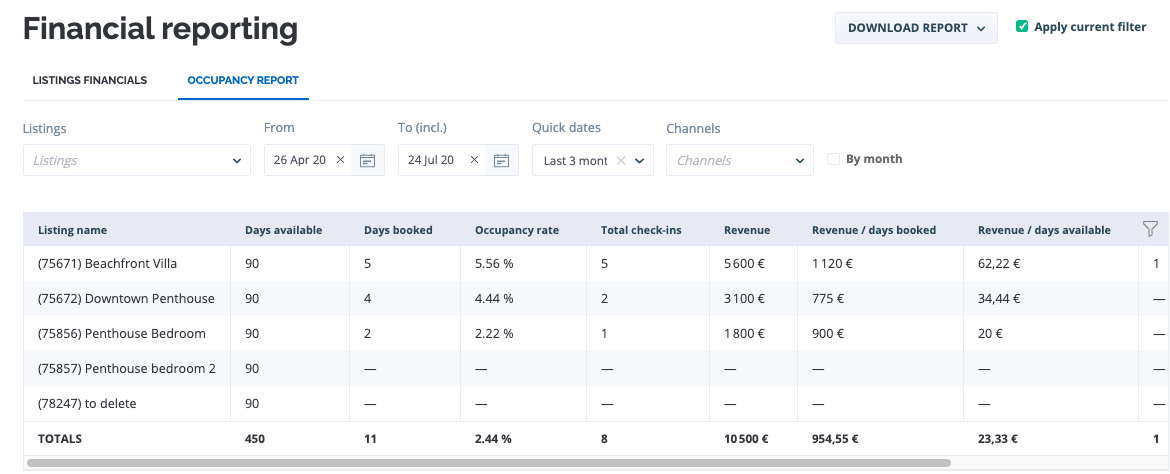 Filters
Listings: Select the listings you want to see in the report
Date Selector: You can select the date you want this report for
Quick Dates: This is a quick date selector
Channels: Choose the channels you want this report for
By month: If selected, the report will show you per listing, per month. If not selected, the system will aggregate the occupancy per listing.
Report
Days Available: We will only count available days. If a day is blocked, we will not count it
Days Booked: Number of days with a reservations
Occupancy rate: (Days booked/Days available)*100
Total check-ins: Number of check-ins for the selected period
Revenue: Total revenue
Revenue/days booked
Revenue / days available
Cancellation: Number of cancellations
Cancellation percentage: (Amount of cancelled reservations / (amount of total reservations + cancelled reservations))*100
Note: You can drag&drop the fields so you can build views that work better for you.

Tip:
If you wish to know how many guests are currently staying, in Quick dates, select Today. Check the total Days Booked and it will tell you how many guests are currently staying