Reservations: Cancel VS Delete Follow
How to cancel or delete a reservation from Hostaway channels and Vrbo
How to delete a reservation?
If you need to delete a reservation, please submit a request via this link specifying:
Reservation ID
Guest name
Check-in date
The reason why you would like to delete the reservation
And confirming that the reservation has been canceled in the channel
Please note that deleting a reservation in Hostaway will not cancel it in the channel.
How to cancel a reservation?
It is only possible to cancel Hostaway reservations (Direct/Hostaway Booking engine/WordPress reservations). For other channels, you will need to contact the channel directly, except for Vrbo.
If you would like to cancel a Hostaway reservation follow the next steps
Go to Reservations
Select the reservation
On the top right corner click on the "Cancel Reservation" button
Confirm


Please note that it will not inform the guest automatically, except if you have a message automation setup for the cancellation event.
How to cancel a Vrbo reservation?
To cancel a Vrbo Reservations please follow the next steps:
Go to Reservations
Search for the reservation
Click on "Cancel Reservation"
Select a reason
Confirm
Recommendations
You should avoid selecting the "Traveler" reason if the traveler did not request the cancellation on their side first. You should receive an email in your mailbox and Hostaway when a guest requests a cancellation
Vrbo fees might apply depending on the reason selected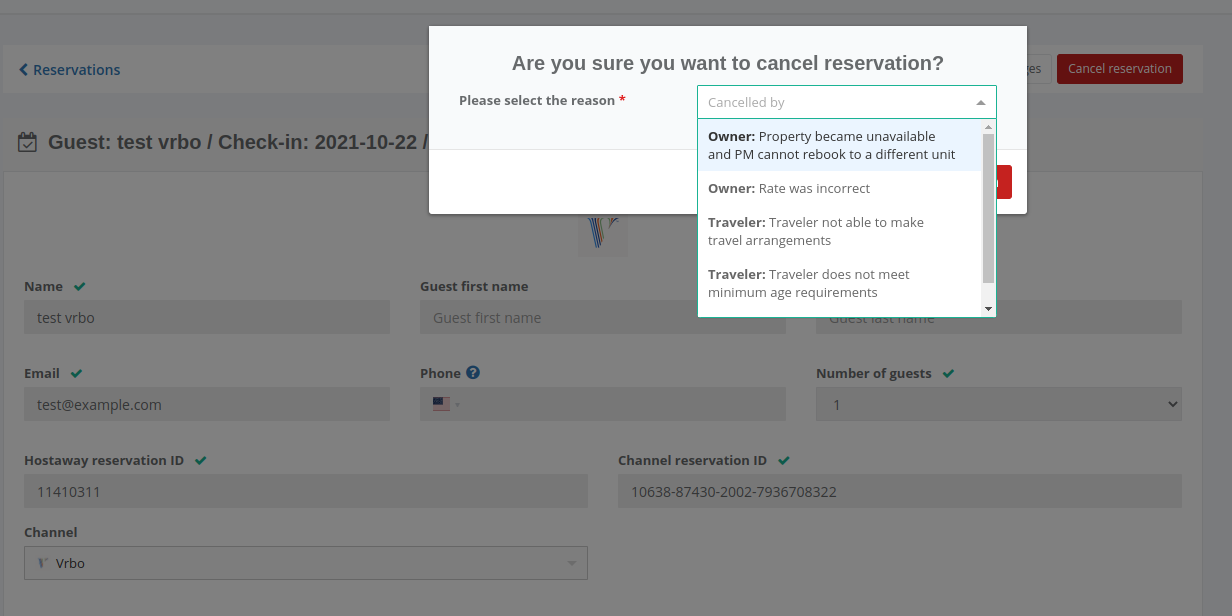 You can refer to How to Set Up a Cancellation Policy for more information on editing cancellation policies for Vrbo and direct channels.