Listings do not turn themselves off inside the channels and also, they do not automatically unmap. You, as a Hostaway user, will always need to deactivate your listings in the channel or request to do that by the channel.
When a listing is turned off in Hostaway, this only hides the listing and the information inside Hostaway. The listing will remain connected to Hostaway unless you unmap the listing from Hostaway.
Steps to take before turning off or deleting a listing
Before turning off or deleting any listing, export any necessary information from Hostaway and make sure to do the following:
Check which channels the property is connected to.
Unmap first all room IDs from all channels that the listing is connected to by going to Channel Manager > Channels > Configure Airbnb or Booking.com or other channels:

Example: Listing is connected to Airbnb, Booking.com and Expedia:

1. Unmap the listing from Booking.com.
2. Unmap the listing from Expedia.
3. Unmap the listing from Airbnb.

If it's connected via an iCal connection, deactivate the iCal connection.
Turning off a listing
Go to Channel Manager > Listing mapping.
Under the "Active" column, click on the "On" button to turn the listing off: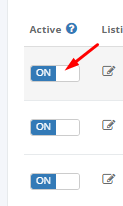 If you need to turn back the listing on again, just click the "Off" button and the listing will be active again. Please make sure to map again the properties for the channels that you want to be connected to after turning on the listing.
*** Please note that turning off a listing WITHOUT unmapping from the channels can cause errors as the bookings can still be synced to the deactivated listing. Calendars of deactivated listings will not show on your Calendar menu as these are not being managed anymore and availability will not be pushed by Hostaway.
Deleting a listing
Go to Channel Manager > Listing mapping.
On the same row of the listing that you want to delete, click on the 3 dots and click on "Delete listing".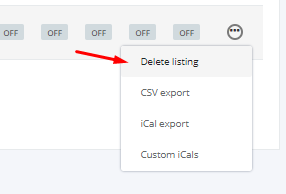 Deleting a listing cannot be reverted and custom fields that are based on the listing will be removed as well.