Common Booking.com Connection Issues Follow
It's easy to connect to Booking.com if you've followed our steps here!
However, there may be times when you've already mapped the properties in the dashboard but then after verification and testing, you've noticed the rates or availability is not being shown correctly at all.
Here are the common causes of Booking.com Connection Issues:
1. Incomplete Connection
How to check:
Go to Booking.com Extranet, click on the Property Listing.
At the top right corner, click Account then Connectivity provider.
If you see this, the connection is incomplete and you'll need to contact our Support Team to complete the connection: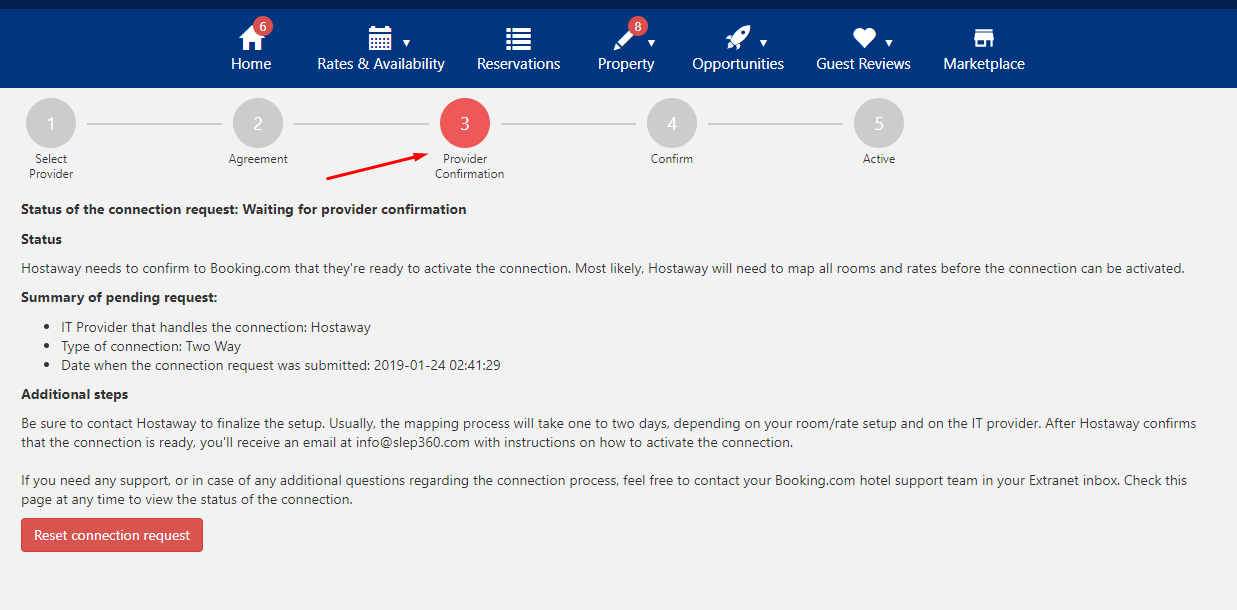 If you see the below prompt, it means that the property is pending to be opened by you and you'll need to click on "I confirm the connection with provider":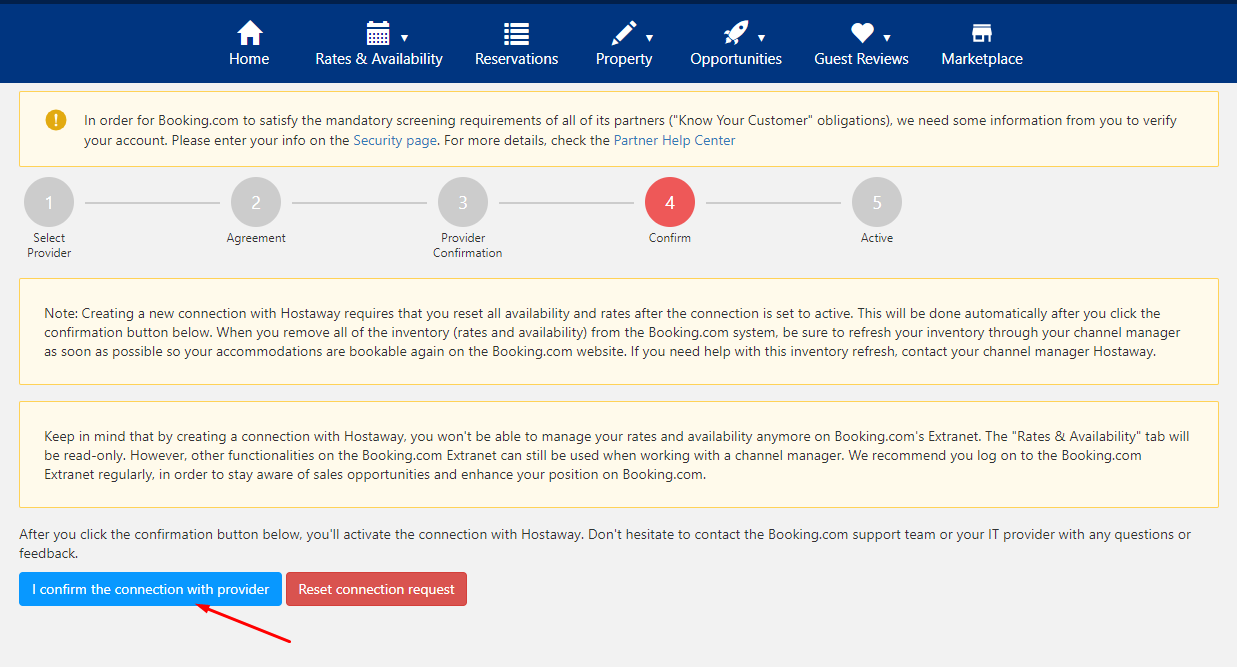 Update 2020-03-20: If you don´t see this option, it means that you are using a new Booking.com Quick connect version and you don´t need to confirm.
You should be able to see the connection has been completed if you can see this:

or a new version: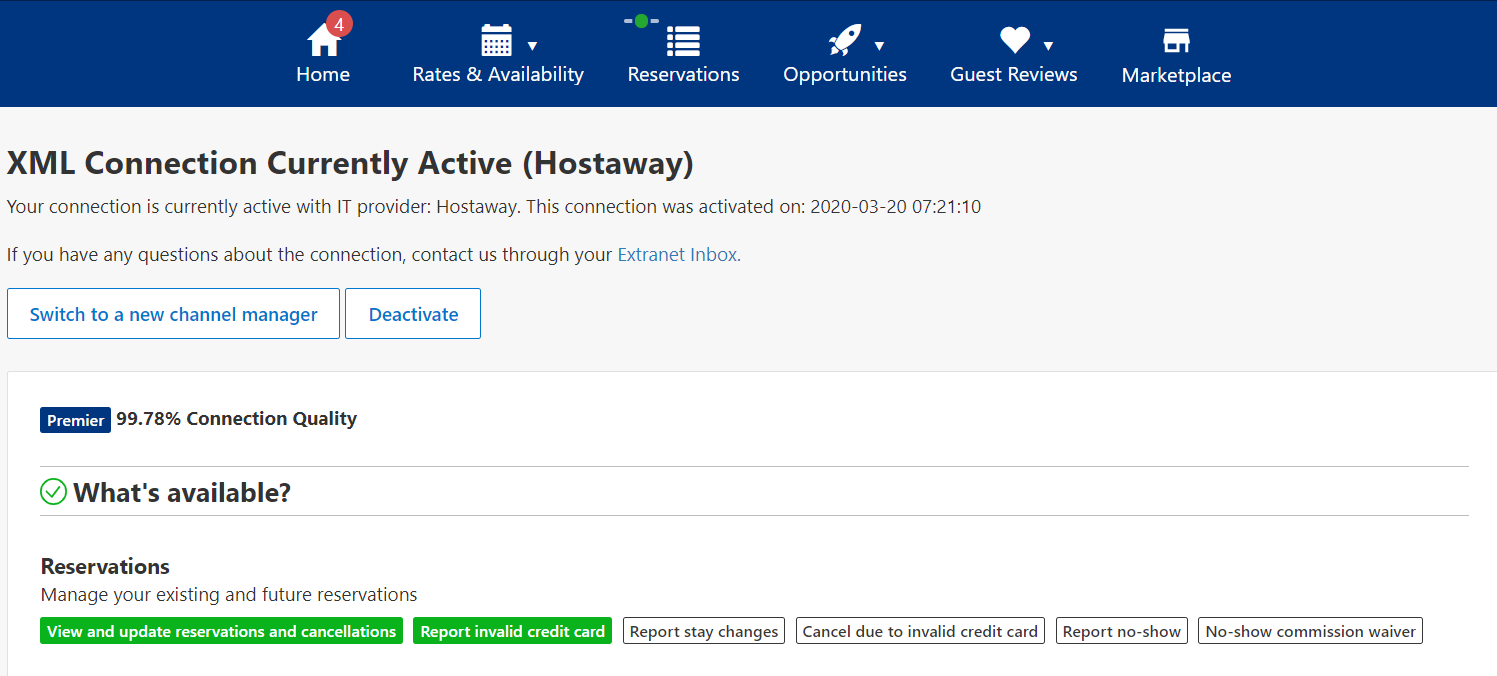 2. Your property status is showing as "Autoclosed: Availability" and "Closed/Nonbookable":
Your Booking.com Extranet calendar is showing like this with yellow lines or red lines: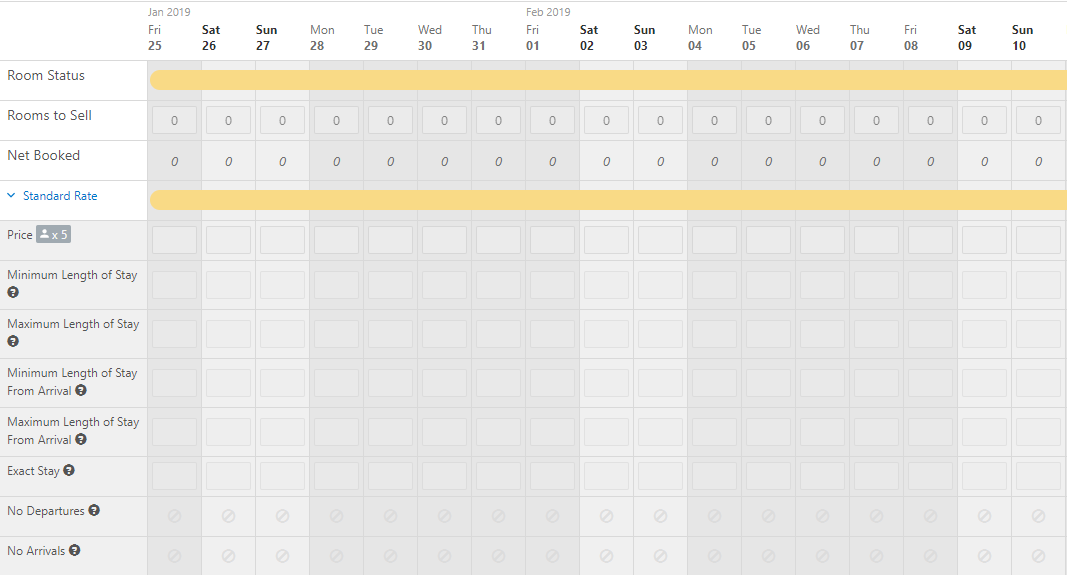 Possible reasons might include:
a. There are no existing rate plans on your Booking.com Extranet for the property.
Go to Rates & Availability > Rate Plans.
Check if there are Rate Plans available. If there are none, create one.
b. There are no "Rooms to Sell", the Extranet calendar shows as "0" instead of "1" for all the available dates and there are no rates being shown:
Go to Extranet Rates & Availability > Calendar and double-check if you have the same situation as the above screenshot.
If yes: Unmap the property in the Hostaway software.
Make sure that there are rooms available to sell on your property. You should be able to see an "Edit" button under Rooms to Sell before the connection and please make sure you've filled out the rooms for all the dates you wish to be bookable. Else, you can go to: Rate & Availability > Open/Close Rooms or Adjust rooms to sell. More information on how to update your availability here: https://partnerhelp.booking.com/hc/en-us/articles/213577765-A-step-by-step-visual-guide-for-updating-your-availability - for further information, please contact your Booking.com account manager.
Next is to disconnect Hostaway: On the Extranet portal, go to Account > Connectivity provider > Remove/Deactivate Connection.
Once the property status has been set to Open/Bookable or Ready to Open and the rooms to sell have been filled out, you can now request again for the connection with Hostaway.
c. The rates are too low for Booking.com to accept.
Check if there are different currencies being used on Booking.com and for the other channels.
If there are different currencies, please check if the mark-up rate is being set accordingly so that the daily rate on Booking.com is equivalent to €5 EUR or USD as this is the set minimum daily rate being required by Booking.com to be able to push rates correctly.
A healthy calendar should look like the one below, showing green asterisk marks as bookable dates and yellow ones corresponding that the room has been booked or has already been sold out:

3. The rates are there but I can see another rate plan that has been mapped to Hostaway and it shouldn't be there:
This usually happens when the rate plans have been changed or modified on Booking.com. If this happens, please unmap and remap the property again by following this guide here.
Please be reminded that unmapping properties might remove email addresses and CC data. It's best to always check the reservations for missing email addresses and update them so you can continue messaging with the guests.
Best practices:
Once the connection has been done, please check and adjust the mark-up rates accordingly to avoid reservations with the wrong rates.
Schedule a biweekly test if the availability and rates are being pushed by manually blocking and changing the daily rate on the Hostaway calendar and comparing it to the Booking.com Extranet calendar.
4. Not XML Error : Non-refundable rate in Hostaway does not appear.

Hostaway does not support linked rate plans. If you are having a linked rate plan, this can be clearly seen where Not XML means rate plan is linked and managed from Booking.com:




This error can lead to, non-refundable rate not appearing for the listings in Hostaway Platform.

If you would like to have this rate plan in Hostaway:

1) Unmap the listing from Hostaway
2) Change linked rate plan to a new rate plan on Booking.com (can edit or create a new one)
3) Finally, map again to Hostaway.