Viewing Guest Credit Card Information Follow
Decrypt Guest Credit Card
Hostaway cannot store guest credit card data and therefore the liability of storing such personal data falls into you as the client. In order to provide access to viewing guest card data, you will need to sign our Service Contract & Confidentiality agreement. Please send an email to support@hostaway.com to request this agreement.
You will then receive the agreement which needs to be signed and sent back. Once this has been verified, the activation of this feature will be done ONLY under the client account that has requested this feature.
Important: Please note that ONLY reservations received AFTER the Secret Key has been downloaded will have the option to decrypt credit card details.
Credit card details for reservations made before the moment you downloaded the Secret Key will not be eligible for the reveal credit card option
How to view card information
1. In the Dashboard, go to Settings > Integrations > Download Secret Key. This key is a file that will be downloaded to your computer and CANNOT be shared with anyone, and the Hostaway team.

A pop-up window will appear to confirm the download: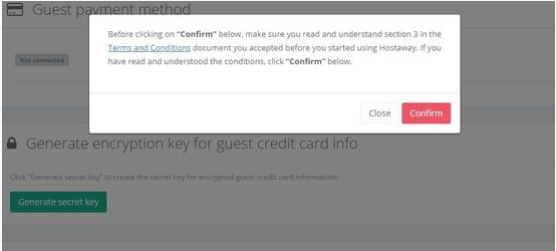 Another reminder message after clicking on confirm will be shown: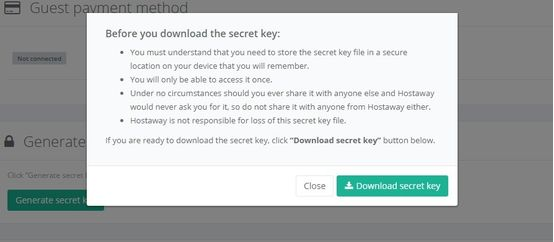 2. Clicking on "Download secret key" will download a file with the key that you will use later to reveal the card data. The Key is .pem file with the following naming convention: Hostaway-cc-key-yyyy-mm-dd.pem. You will be responsible for safely storing this key.
3. Once the key file is downloaded, you must go to Reservations module, select specific Reservation > Edit > Payments* and click on "Reveal credit card".

3. Another pop up will ask you to drag and drop the key file and after that just click on "Show credit card data" which will show the full card number, name, expiry date and CVC number.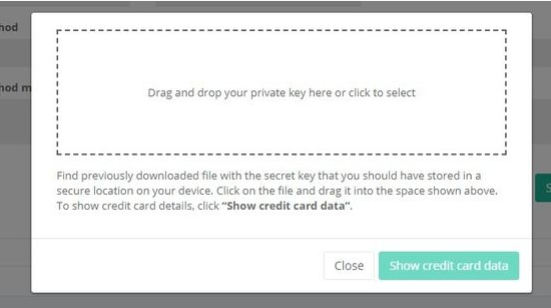 If the key is the wrong one, an error message will be shown: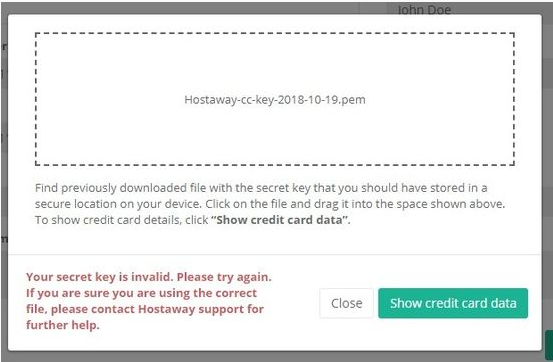 If it is successful, you will see the correct information: