How to charge a guest in Stripe Follow
Login to Stripe > Click on Customers > Locate the customer and click on it.
Scroll down to make sure a card has been added and locate the Create Payment button.
Enter the correct amount, description and charge the card. You may also make a pre-authorization (for example for a deposit) by unchecking the Capture Charge button.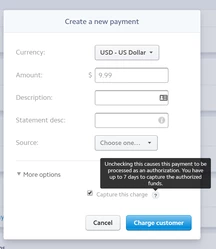 Once you do this, you will immediately see if the charge was successful or not.
Find more here on how Stripe payouts work.