Expedia: Connection with Hostaway Follow
How to connect Hostaway to Expedia?
Important to read before connecting
Expedia only exports reservations made 30 days before the connection date for future check-ins
In Expedia, listings have an inventory of 1. Except if you plan to use the Multi-unit feature
You will need to ask Expedia to forward guest email and cc details to my channel manager
I'm aware that room changes or cancelation requests with penalty fees are not compatible with the channel manager
When/if you change your room mapping in Expedia after connecting to Hostaway, you will need to remap your listing in Hostaway
The maximum Length of Stay allowed by Expedia is about 27 nights

You can have the LOS that you wish but Hostaway will always push 27 nights as a maximum
i.e: If your LOS is 31 nights, it will be 27 nights for Expedia

When Hostaway push Length of Stay to Expedia, for example, the minimum stay is 8 days and in Expedia, your account's minimum stay is 1 day. Expedia will not accept the update with +5. To make changes possible, please log in to Expedia and change it to 5 days as a standard so any range between 1 and 10 days will be accepted

Connecting to Expedia
Apply for a connection within Expedia Partner Central
Go to your Partner Central for the property
Choose Rooms and Rates > Expedia connectivity settings


Some accounts do not have access to the Channel Manager option within the Expedia partner central. If your account does not have a Channel Manager option, please contact Expedia and ask them to enable it for your properties. If you don´t have an account with Expedia yet, please use this link to sign up

If another provider is already connected, click on Disconnect
In Selected Provider, click on Edit
In Provider for updating rates and availability, enter Hostaway
In Provider for receiving reservations, enter Hostaway, two-way connection, and click "Connect"
Then click on "Download rates and room mapping"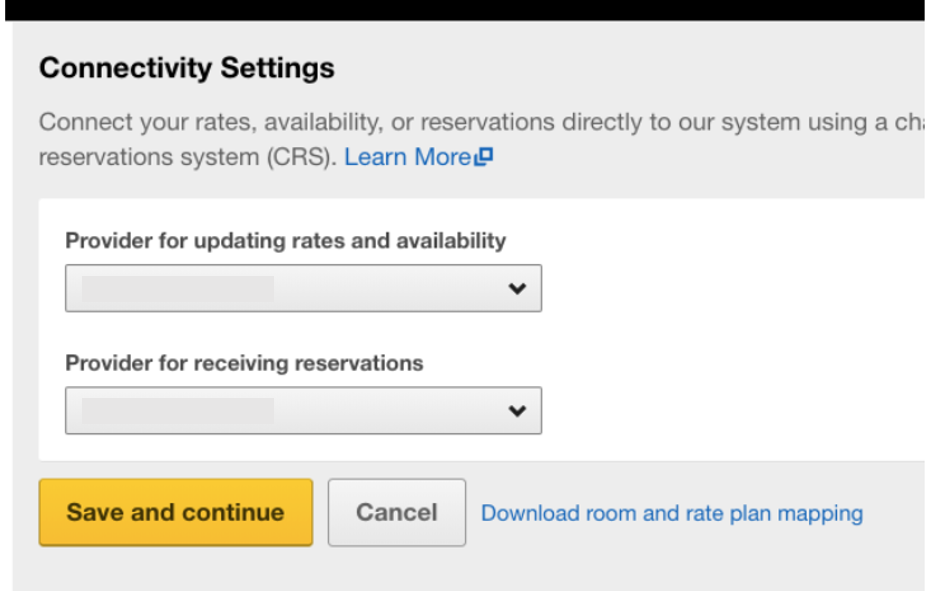 Connecting the property on Hostaway
Go to Channel Manager > Channels > Expedia > Configure
Click on "Connect New Expedia Property"
Add the Property ID and Hostaway will download all the room categories
Assign each room category to a property inside Hostaway
Make sure you assign all room categories!


Check rates, markups, and availability
Once the rooms are Mapped follow the next steps:
Go to your Hostaway Dashboard > Channel Manager
Select the listing > Click on Settings
By default, the mark-up is 100%
Save