The Hostaway software allows you to create new listings on VRBO/Homeaway by automatic export. HomeAway/VRBO will connect your current listings if you have them to these newly created listings. This way you are able to have your new properties listed on Vrbo in a quicker way then when you do this manually.
Important:
The listing export is only available for Hostaway accounts that have 5 or more active listings. Note: If your listings are based in the US, Canada, Australia, or the Asia Pacific Region, even if you have less than 5 listings, you can apply for API integration by completing the webform (please see below) and VRBO team will confirm if the integration is possible.
You need to have a signed content API contract with VRBO (HomeAway) and be in touch with a HomeAway pre-implementation specialist.
Homeaway/VRBO supports 5 currencies: USD, CAD, EUR, GBP, AUD
You can get in contact with Homeaway using the webform (if you need further assistance, please let us know)
Note: It is important to review and complete the steps below, inform us that you have done it so we can enable the connection for Vrbo, otherwise Vrbo implementation specialist will not be able to start the integration project.
Step 1: Requesting Content Export contract from HomeAway/VRBO
Get in contact with the VRBO /HomeAway pre-implementation manager by completing the webform. Make sure you mention channel management software Hostaway OY and provide the Hostaway account ID in the comment section (You can find your Hostaway account id in Dashboard under settings menu). Once you have the signed contract, you can proceed by updating the listing details in your Hostaway account to make sure your listings are ready for export. It is important that you update all your listing details before you request the access to the HomeAway/VRBO content export program. Please let us know that your account is ready and we will activate Homeaway/VRBO export option for you.
Homeaway/VRBO will ask you for:
Advertiser ID: Go to Settings > You will need to send your Account ID
Step 2: Set up the payment provider
Make sure that you have Stripe or Braintree account connected with Hostaway before the integration. Once the integration is completed you will be able to charge your guest directly via Stripe/Braintree or Hostaway. VRBO (Homeaway) will not take payments for you. You can use Auto charges feature to set up the payment automatically, so you will not have to process it manually. Once set up, it will apply only to the new upcoming reservations. Please find more information about guest invoicing here.
Step 3: Preparing for Content Export
In your Hostaway account, update all the listings by menu Listings > Edit button per listing and provide as much information as possible. Specifically:
Basic information tab.
Correct and full address details of the listing.
Make sure the bed setting is correct (read this article)
Financial settings - Property rent tax % (it can be applied to fees as well)
Prices&fees - refundable damage deposit
Under additional info the Check-out, check-in start, check-in end time and square meters.
The channel-specific: title, headline, description and upload a HomeAway rentals agreement PDF
Please make sure in Channel specific the Property Name must be between 20 - 30 characters and Property Description must be 400 characters or more.
Select if you process the payments by credit card or send an invoice manually to guests with payment instructions. When you select Allow invoice payment? Yes, you will need to manually send invoices to the guest to pay by bank or cash on arrival. When you select No, HomeAway will send CC details by Hostaway to your Stripe account to charge the guest by.
Add the contact person's information.
Add all the amenities that exist in the Amenities tab
Add in the Minimum Age Rule by going to Channel Manager > Channels > Configure Homeaway > Settings. Add in the minimum age of renter and click on Save.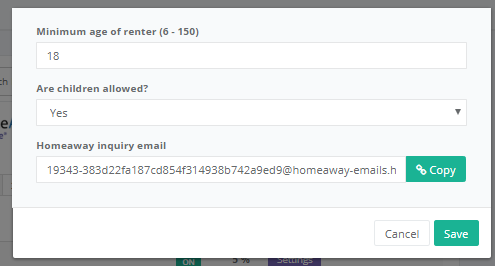 Important: Please make sure to set up taxes for VRBO before the integration is completed. Listings- edit -financial settings - Property rent tax.
Step 4: Request the Hostaway to HomeAway/VRBO export for your listing(s)
When you completed the webform on Vrbo site and prepared your listings information for export, have the payment processor active and integrated in Hostaway (Stripe or Braintree), set up auto invoices with auto charges (if needed), please inform us by contacting support@hostaway.com and we will enable the option to export the listings to Vrbo before the Vrbo implementation specialist starts the project.
When we confirm that VRBO channel is enabled for your account, please go to menu channel manager > channels > HomeAway VRBO > configure > export your listings. Once exported, the listings will be enabled for VRBO and the implementation specialist can finish the process.
Copy VRBO/Homeaway inquiry email: Can be found in Channel Manager > Channels > Configure Homeaway > Settings and send it to VRBO integration specialist to add it as a secondary email address on VRBO to make sure Inquiries messaging works fine.
After this, it may take up to 24 hours before the listing is showing on HomeAway.
Attention
When you export your listing to HomeAway/VRBO, it creates an XML connection between Hostaway and VRBO software. From this moment forward, the changes you need for your property details, rates and communication needs to be handled by your Hostaway software. The Hostaway software supports the very well working basic configurations for HomeAway/VRBO however when you are looking for advanced pricing, discount rate plan options to set up in HomeAway/VRBO it is possible the software does not support this yet. When you need an adjustment that is not supported, let us know. We evaluate if and if so when it is expected to be possible to support this new setting. If you were using the ical connection and switched to the XML/API connection, please remove the ical link to avoid getting reservations via ical. If you have bookings created before the integration, please make sure to add them manually in Hostaway.
Time and settings review
Hostaway aims to have you exporting the highest quality listings to VRBO/ HomeAway in the fastest way possible. However, you as the manager, remain fully responsible to verify your listings and settings on HomeAway.com/VRBO after export at all times.
For more information feel free to check our User Guide about VRBO HomeAway listing content and settings export.