How to refund a guest payment? Follow
Charges made by guests when using Stripe or added by you as off-line payment are showing in the "Paid" status within the reservation-specific detail page and guest payments menu overview. When you need it, you can refund the guest partially or fully the amount of the specific charge by your Hostaway dashboard.
Creating a refund:
When opening the reservation specific detail page you have your overview of charges paid by the guest. You can refund full or partial amounts per charge. in the event multiple charges need to be refunded you need to create per charge a refund. Select from the dropdown under the charge the option Refund.

On the right side of your screen, the refund menu will open up giving you several options.
Name: you can provide a short internal name for the specific refund.
Refund amount: The amount you refund can be a part of the charge or the full amount as charged before.
Reason: you select one of the 4 reasons why the refund is needed.

Duplicate: When by accident you have charged the guest 2 times.
Fraudulent: When the Guest or card owner claims his card was stolen and charge should be refunded.
Requested by customer: When the guest requested a refund for a charge.
Other: for refund cases that do not fall under any of the above 3 reasons.

Add more details about this refund: A short description field to provide more background details about why the refund was needed.
Include in price breakdown: select this option when the refunded amount should also lower the total reservation sum so the guest would pay less for his reservation.
Click at the bottom on the button Refund payment.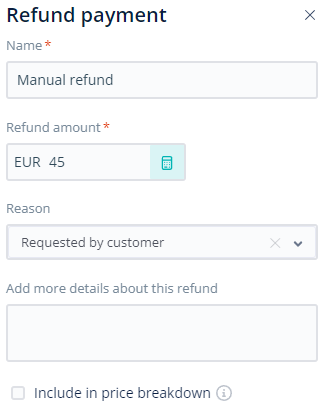 When refunded a new refund event will be added to the reservation detail payment timeline. When the charge refunded was originally done by your connected Stripe.com account the refund will be automatically initiated by Stripe to the guest involved. You will see on the Stripe side the payment depending on the amount listed as partially or fully refunded.

Refund receipts
After the refund is created you are able to download a refund receipt. The refund will also show in the Guest Portal where the guest can see and download the receipt. The template for refund receipts can be adjusted under the menu Guest payments - Document templates - Refund Receipt.
Additional notes:
Starting 2023-09-25 the refund system will be activated in batches for existing HW clients, when you do not yet have access please contact support to activate it for you.
Additional menu and reporting items will be added during September / October 2023 updates will be posted in the user guide when released.
Refunds by the Hostaway dashboard are unavailable for Authorize.net or Braintree-connected accounts.