How to connect to Clearing with Hostaway? Follow
What is Clearing?
Accuracy of financial information is paramount when managing properties and building a Short-Term Rental property management business. Ensuring accuracy, however, can be time-consuming without automation tools to help you with the work. The process often requires many manual processes that are prone to error, so by leveraging automation, property managers can lower the risk of reporting inaccurate financial information.
Recently, Clearing and Hostaway have integrated to provide an automated bookkeeping and trust accounting solution for you that use Hostaway as your Property Management Platform (PMP).
Through this integration, Clearing consumes property and booking information from Hostaway. Once available in Clearing, the information is leveraged to match charges against bank account transactions automatically, guided by rules that are created based on the transaction information, types of transactions, and asset allocations. Virtual accounts can also be created to allow for a true trust accounting set up, liberating you from burdensome manual tasks (and massive spreadsheets) associated with closing their financial books.
This powerful connection between Clearing and Hostaway will transform how your using Hostaway to manage your finances, bringing automation, accuracy, and efficiency to your accounting practices year after year.


If your a new user, you can request for a demo via https://www.getclearing.co/demo

Step 1: Initialize the integration from within Clearing

Step 2: When your going through the Clearing onboarding steps, you will be brought to a page where you can select your Property Management Software. Choose Hostaway here.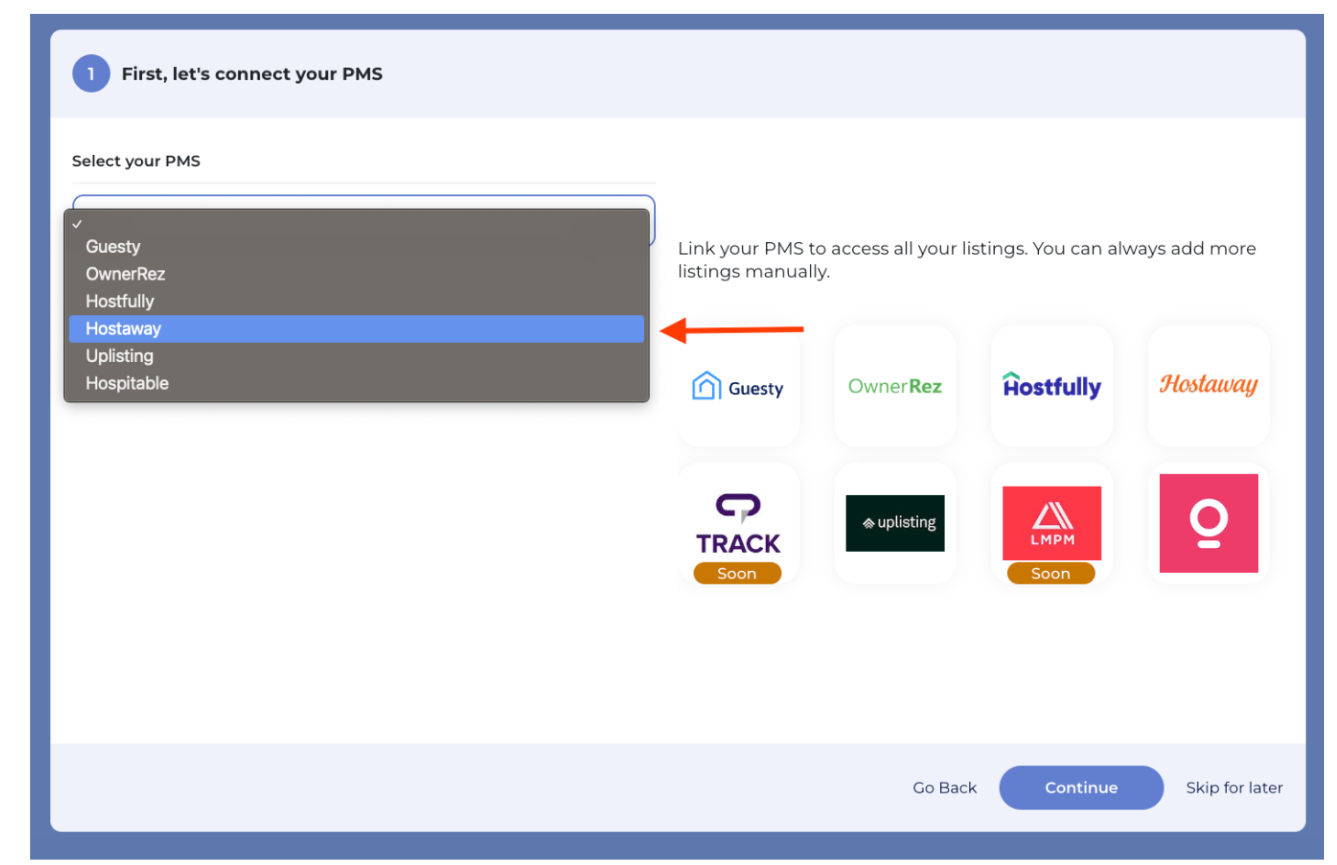 Step 3: You will now need to provide your "Account ID" and "Client Secret" which you can find within the Hostaway dashboard. Once provided, click the "Connect" button.


You can activate the connection from the 'Marketplace' for the relevant partner to generate your API Key:
Go to the

Hostaway Dashboard.

Click on 'Marketplace' within the dashboard, then search for the relevant partner and click on the 'Connect/Configure' button available there:



This will expand the partner box and you can click on 'Connect' again to start generating the Keys:



Then you can click 'Create' to generate the API Key:



The new credentials will then be presented on the screen. Please make sure to copy and save the API Key safely as it will be visible only once:

Step 4: Confirm your assets from within Clearing
Once the integration has been connected, your properties will pull into Clearing automatically and you can always add more as your business grows.
Step 5: Configure your assets from within Clearing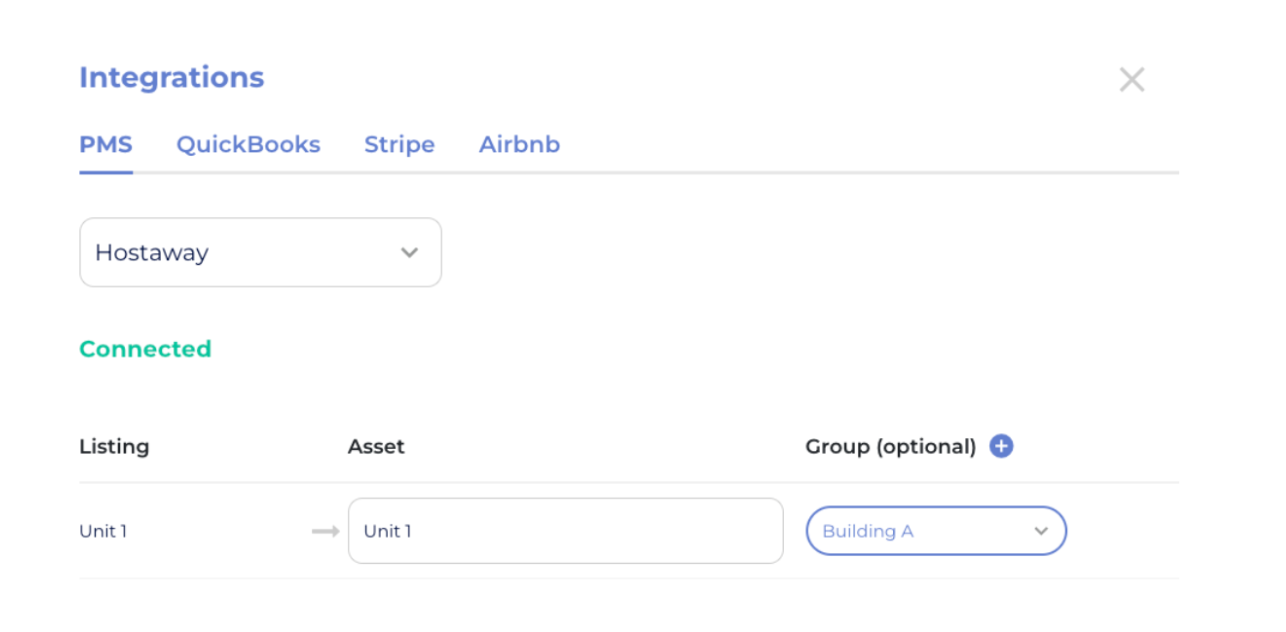 Complete this step by first naming your assets (or leave them the same as how your named in Hostaway which will appear automatically).
If you want to group properties, for any categorization needs, you can complete that now (this can also be done later).
In general, people tend to group their assets by buildings or cities, but the flexibility of Clearing's platform allows you to group properties however you desire. If a new group is needed, you can create new groups from this step by clicking the plus sign beside the group column title. There is also no requirement to group your properties - it's completely up to you!
Step 6: That's it! 🤘
Once you have loaded your properties, you have completed the integration setup! Congratulations!
You are now ready to start automating your bookkeeping and simplifying your Trust Accounting. Your journey towards financial management automation begins now - get ready to consider bookkeeping a thing of the past, and let Clearing do the work for you!
If you have issues, don't be afraid to reach out to our dedicated Clearing support team for any additional guidance or support needed.
Clearing is a Financial Technology Company, not a bank. Deposit Accounts are issued by Evolve Bank & Trust, Member FDIC.

Good To know
If you have Already signed up for Clearing? - follow these steps
If you have already signed up for Clearing and can access your dashboard - the first step will be to click your name in the bottom left of the platform and select "Integrations".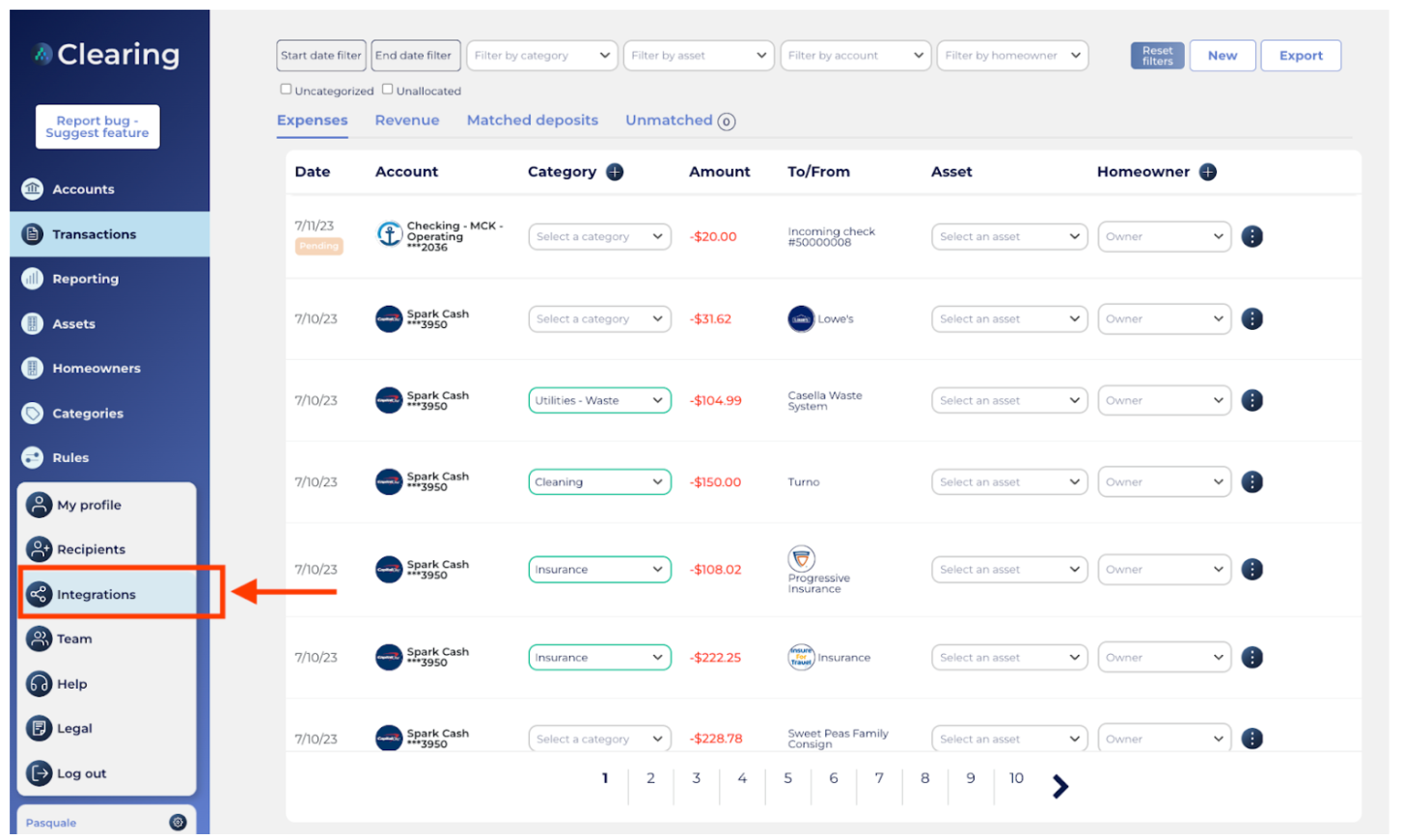 Select Hostaway from the following list.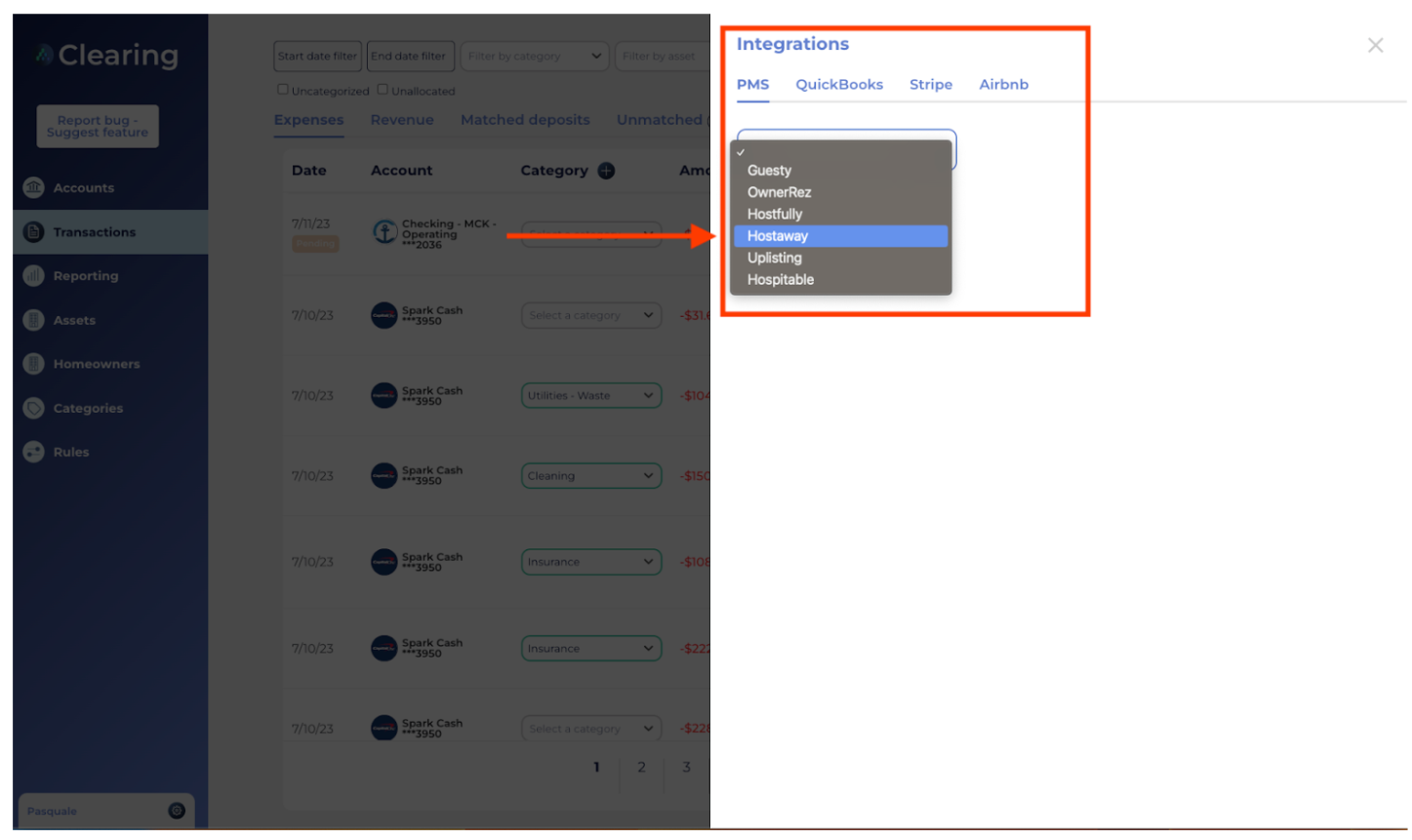 You will now need to provide your "Account ID" and "Client Secret" which you can find within your Hostaway dashboard. Follow step:3 in above and Once provided, click the "Connect" button.

For more information please visit to clearing website