How to use Owner Statement Feature Follow
To use Owner Statement, you will need to read these 2 articles:
1. Financial Reporting: How to set-up your formulas?
2. How to create a new user?
1. How to create an Owner Statement
You will need to go to Owner Statements > Click on the New button > Enter a title..
Once created, you can select and come back to a created Statement by clicking on the dropdown menu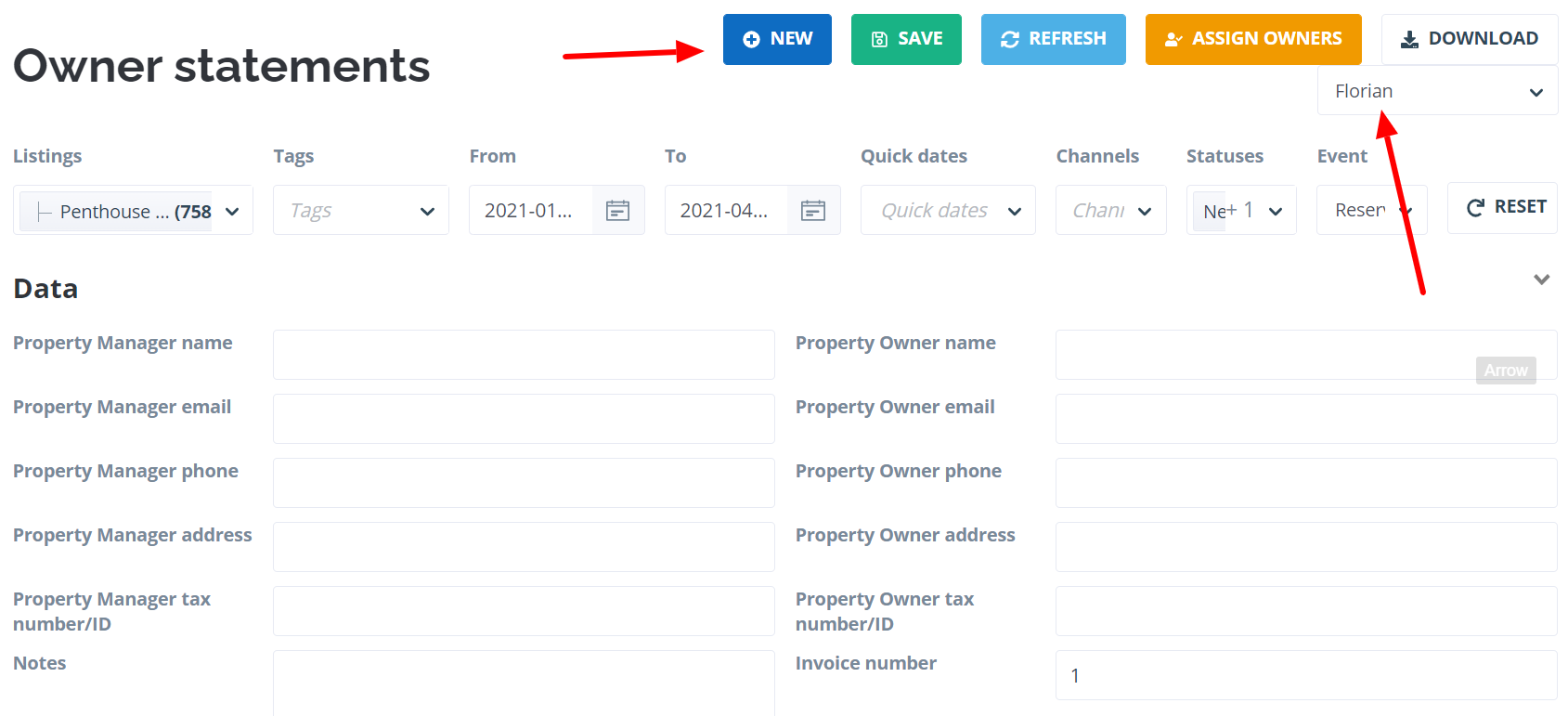 Note: If you create a new statement with the same name as an existing one, it will replace the old one.
It is also important to note that the Owner Statement will keep the exact numbers they had at the moment of saving, even if reservations had some editions or if used formulas were modified. That is why you can use the Refresh button that will update the numbers.

The date filters support up to 1 year.
2. Your rental activity, expenses and extra
A. Summary
First, you can see a summary depending on the dates and other information you have selected in the filter section.
Below, you will see 5 icones with 5 values. These are the result of formulas that you have previously created (Financial Reporting: How to set-up your formulas?).
You can select up to 5 formulas to show. To change them, click on Edit

B. Rental Activity
Here, you will see a summary of the reservations you got, depending on the filters you have selected.
These reservations will appear on the Downloaded PDF.
Note that you can add as many columns as you wish. However, only 8 columns can be shown (but you can scroll to see them if needed) and the downloaded PDF can support 12-13 columns (in landscape). It will adapt size depending on the selected amount of columns.

Note: "Guest name" is not a mandatory column anymore.
C. Expenses and extras
In here, you can add expenses and extras that will appear on the downloaded PDF.
To add expenses, click on the add button. Then you can enter all information.
Note that the Amount can be positive or negative.

D. Grant Total
In Grand Total, you can select the Formulas you wish to show in the Downloaded PDF.
The system will then add all the formula totals together, with he expenses and extras.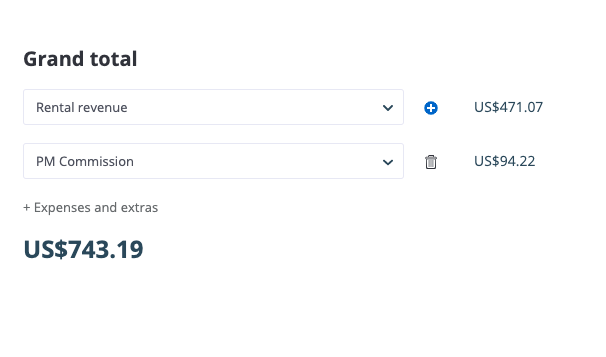 3. Assign Owners and Download
Once you created your Owner Statement, you will be able to assign this statement to a User and/or download the PDF and send it via email.
To assign it, you first need to make sure that the Owner is set up as a User in Hostaway and give him/her the correct access. (How to create a new user? )
To download the report, you can click on the Download button. You will get a PDF with all information you have previously selected:

Recommend: When downloading, please switch to landscape + A4 ( This is a 1 time setting: The browser will remember the configuration for future downloads.