If I mark a message read or unread, will it be done so for all my users?
No, it will only be marked read or unread for the user that has performed the action. The rest of the users will see the message in its original status until they change it.
Can I see who has sent a message?
Yes, the Hostaway user that has sent the message is identified in the body of the message thread.

What information is visible regarding the message?
The following information is available: time sent, channel, sender, time at which a message was snoozed and when it is expected to be recovered. And the usual name of the Message Automation and upcoming automation.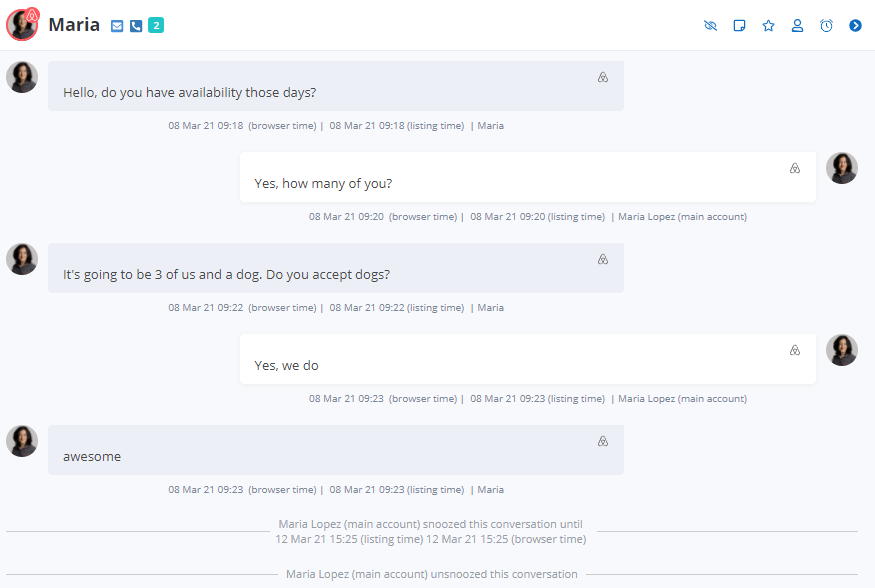 Why are there some countries where it is NOT possible to have a two-way SMS conversation?
We use Twilio as our provider of SMS communication but the restriction is not given by the provider. These restrictions are given by the carrier (e.g. Vodafone) and specific country legislation regarding business to consumer communications. Hostaway cannot influence any changes in this regard and there is no technical solution for it.
If new messages from guests are displayed automatically why is there a Refresh button on the Inbox?
We use WebSockets to display new threads and messages as soon as they arrive to Hostaway. However this is not a 100% reliable method and in some instances, you may wish to refresh the page. The button is only for those cases.
Are the Inbox features available on the mobile app?
Not yet, we are planning to bring on some of the features but please note that the Inbox is now fully responsive so the desktop version can be used with no issues on mobile devices